On an April evening, Mr. Le Thanh Trung received a call asking for support for a man with cancer who had to stay on the sidewalk. Trung arrived at the given location in no time and there was a 60-year-old man curling up on the pavement in front of Binh Duong Provincial General Hospital, causing passersby to shed tears.
Trung decided to live stream on Facebook calling for donations. After only two hours, he had received 100 million VND, making it possible for the man to go for a medical check, and return home for treatment. This was one among other cases that this caring young man helped.
Trung (born in 1993, residing in Thu Dau Mot City, Binh Duong Province) is the director of Binh Duong 24H Company, and owns the Binh Duong 24H fanpage with the largest followers in Binh Duong province, which is a channel for him to serve people in need on the road as well finding relatives.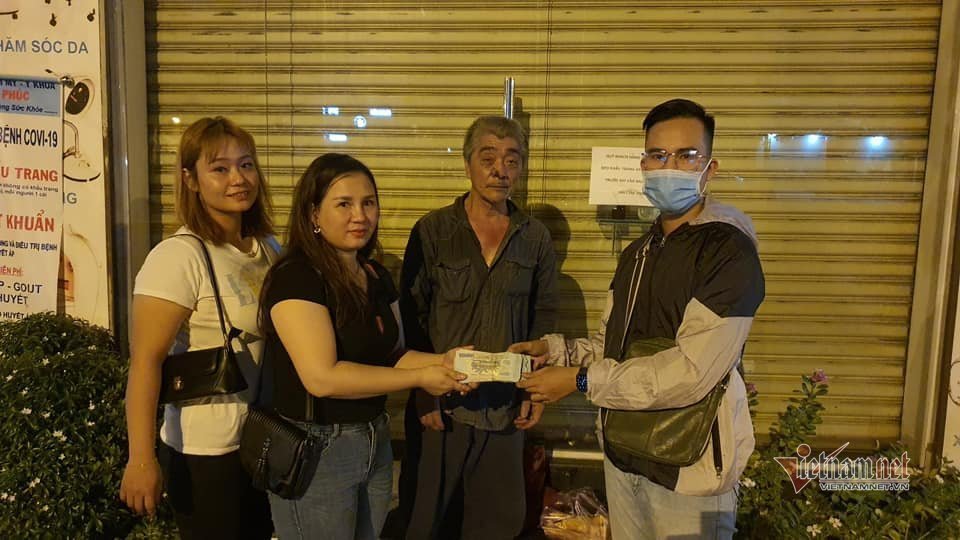 Le Thanh Trung (right) has called for donations of hundreds of millions of dong to help people in distress.
Another typical case was Ms. Tran Thi Thanh Dung (born in 1987, a lottery ticket seller in Ben Tre) who was 8 months pregnant and left alone. She was financially and emotionally despondent.  On the last day of February, Ms Dung, due to feeling unwell, went for a bus to go to the hospital to seek medical examination and lost her way. She had to walk around 30/4 street (Phu Hoa ward, Thu Dau Mot city) to ask for help but she was thought to be playing tricks, so she was refused by all until Trung passed by.
He quickly gave her a lift to the General Hospital of Binh Duong, and also kindly paid all the fees. Trung then used his Facebook page to call upon sponsors for Ms Dung who later gave birth to healthy twins, thanks to the public support.
"I feel so blessed to have Trung's timely support and the 150 million VND from the online community. Without it, my children and I would not be here today," said Ms. Dung.
The young man's Facebook page also called for thousands of supporters and donations for the unfortunate deceased victims. There was a case of a 14-year-old victim from Ba Ria - Vung Tau named Le Trung Hau who had died from drowning. His mother left when he was little, and his father is mentally ill. Poverty did not allow his 80-year-old grandmother to conduct a funeral. Thankfully, nearly VND200 million was sent by sponsors and people to the victim's family through the Facebook page, helping to dilute the pain of loss in some way.
The bridge of hearts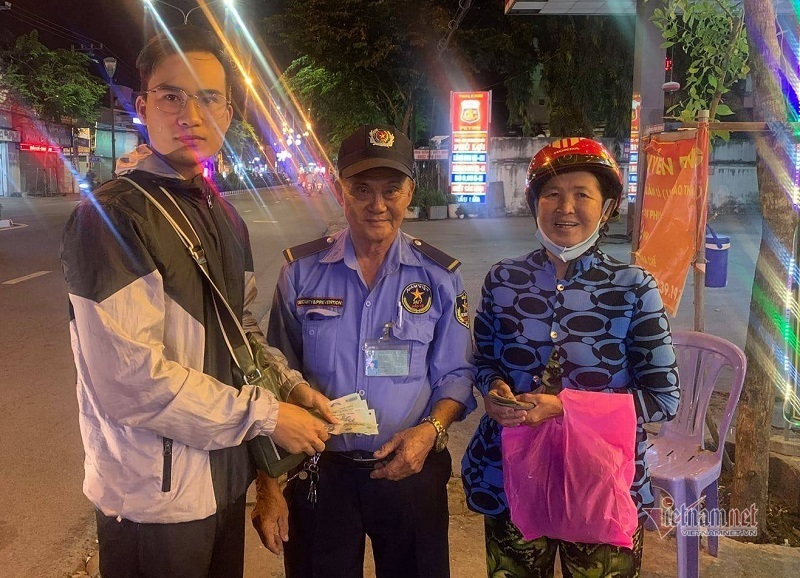 A poor guard who lost his motorbike was helped by Mr. Trung.
Le Thanh Trung was born and raised in Binh Thuan. In 2015, he left his hometown to settle down in Binh Duong province. His Facebook page initially supported his work, but he decided to also do good deeds and help unhappy lives. Trung has built an honest communication channel, connecting benevolent hearts among many social networking sites that spread untruthful information and fake news.
Trung shared: "Knowing I have been helpful to others is what puts pep in my step, definitely not the fame coming in. Also, upon receiving sincere thanks from them, I feel more and more that I need to keep this job going."
There, however, are still many shortcomings as he alone cannot support all the cases, which leaves him feeling downcast more often than not.
Trung and his Facebook page have been recognized by many social networking communities, evaluated as effective in charity work, and highly acclaimed by Binh Duong Provincial People's Committee for its contributions to the society.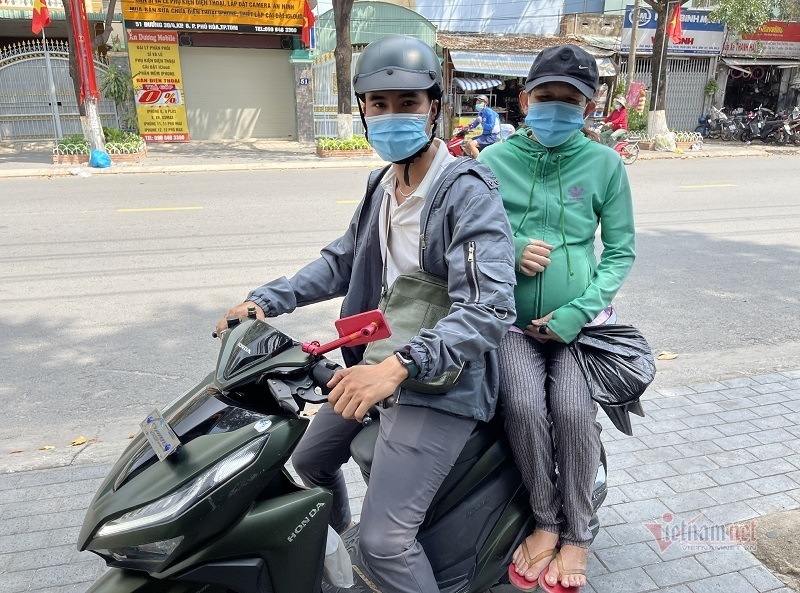 A pregnant woman who received assistance from Trung goes to the emergency room.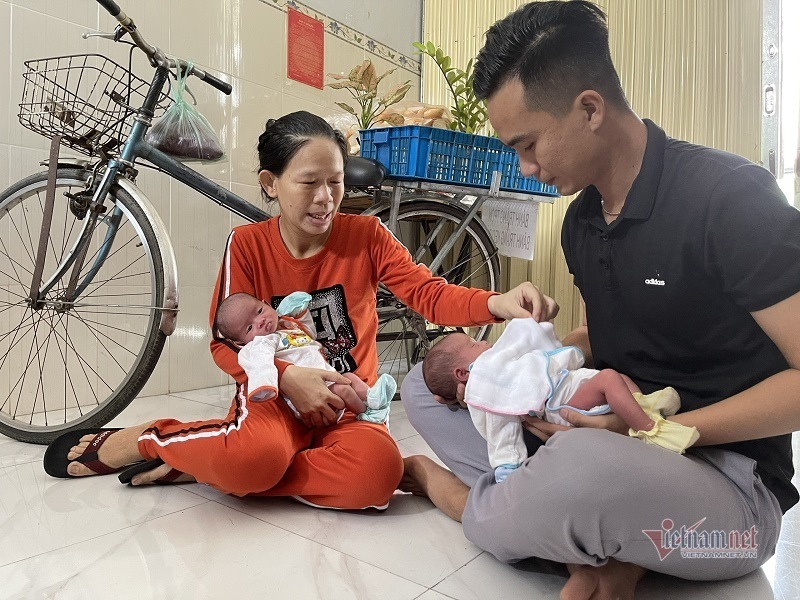 A woman gives birth to two beautiful babies.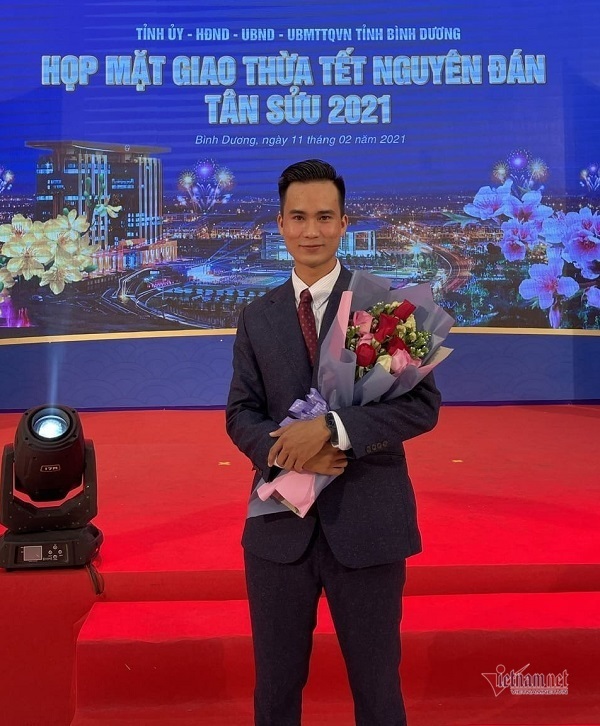 Trung has won acclaim for his contributions.
Xuan An

The kindness of "night-road knights" has made a massive contribution to reducing traffic accidents, and has won acclaim from the people and the government of Binh Tan District, HCM City.