Young man's chilli business is red-hot hit
A young man from a poor rural commune of Thanh Hoa Province has been successful in growing chilli peppers for export.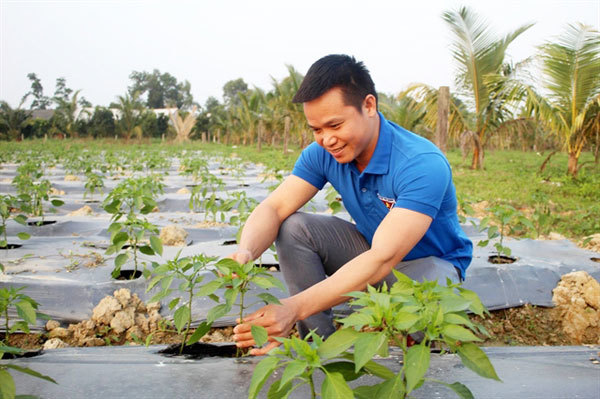 Le Van Thoi taking care chilli plants in his farm. — VNA/VNS Photo
Born in a poor family in Xuan Sinh Commune of the central province's Tho Xuan District, Le Van Thoi decided to start his own business after many years working as a hired labourer across the country.
"After graduating from high school, I left my village to work as a hired labourer in many places," Thoi said.
"But for many years of hard-working, I was still a poor person, let alone able to help my parents," he said.
"So, I decided to return to my home town to work for myself."
In 2005, Thoi went back home, but in the very first years, due to lack of experience, natural disasters and epidemics, his farm did not perform well.
But he did not give up.
In 2008, through the media and the internet, Thoi realised that there were many businesses that needed to import hot peppers for chilli paste and pharmaceutical production, so he borrowed VND500 million (US$21,000) from banks, friends and relatives to invest in a chilli farm.
Thoi imported good quality chilli varieties and used 2 hectares of his family's land to build a farm.
"I had to study several documents on how to grow chillis and invested dozens of millions of dong into an irrigation system," he said.
He focused all his heart on the 2 hectares of chilli.
"After 3 months, I harvested a tonne of chilli," he said.
This result reinforced his confidence and in 2013, realising the market for chilli across the world was on the rise, Thoi started working with many businesses to export chillis.
In addition to growing chillis on his family's land area, he also bought chillis from other farms to help give farmers stable incomes from this crop.
Growing chillis for export has brought his family a stable income.
After five years, Thoi expanded the growing area to 5 hectares and along with growing chillis for export, Thoi also plants fruit trees.
He opened Hoai An Ltd., Company trading chillis and animal feed.
At present, he earns more than VND1 billion (US$43,000) per year and employs 40 local labourers with average income of VND5 million (US$216) per month per person.
His chilli products always ensure food hygiene and safety and are exported to South Korea and China, as well as widely sold in the domestic market, mainly in Thanh Hoa, Nghe An, Son La and Binh Phuoc provinces.
Thoi is also active in activities run by the Youth Union of Xuan Sinh Commune.
He always supports young people in the commune and helps them get out of poverty.
Le Thi Nhung, secretary of Xuan Sinh Commune Youth Union, said: "Thoi is an example for the local youngsters for starting up business to escape poverty."
"Thoi was always a pioneer in campaign of establishing a career, dedicating himself to his homeland," Nhung said.
Thoi was honoured to receive the Certificate of Merit from Thanh Hoa Provincial Youth Union for his achievements in 2018.
In addition, he was awarded a Certificate of Merit by the People's Committee of Tho Xuan District for his achievements in business.  VNS

Do Anh Hieu, chairman of Hung My Commune is known as a dynamic leader who has brought positive changes to the locality.

Vietnam is expected to lower its national average poverty rate from 58.1 per cent in 1993 to 2.75 percent by the end of 2020, becoming a role model in the world in poverty reduction and hunger elimination, said Prime Minister Nguyen Xuan Phuc.