My Xuyen, a village in Phong Dien district 40 km north of Hue, has been famous for wood carving for hundreds of years.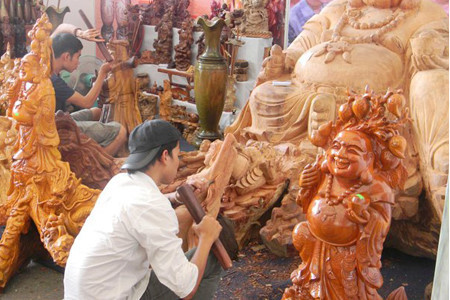 My Xuyen wood carving items have economic and artistic values (Photo: thuathienhue.gov.vn)
After Emperor Gia Long ascended the throne in 1802, the Nguyen dynasty gathered the greatest artisans of lacquer, woodcarving, and horizontal lacquered board from all regions to build Hue citadel.
On the way to Hue, they stopped at My Xuyen and selected some villagers to accompany them and receive vocational training. These workers became the founders of My Xuyen village's carpentry and wood carving tradition.
Nguyen The, a researcher of Hue folk culture, said, "Historical documents say My Xuyen village was established when the Nguyen dynasty gathered the nation's most talented craftsmen to build the Hue Royal Court. After completing the construction, they returned home and My Xuyen's wood carving craft began to take shape."
My Xuyen wood products are strongly influenced by the Hue architectural style. Inside carving, intaglio, high relief carving, low relief carving in successive layers, deep carving, superficial carving, sketchy carving, and inlaid carving are all features of My Xuyen products.
Many of the palaces in Hue's imperial city and many of Hue's traditional wooden Ruong houses are decorated with patterns carved by My Xuyen artisans.
Artisan Nguyen Duc Phi said, "The patterns carved by My Xuyen artisans are complex and artful. They are full of spiritual force and respect for superiors. The deft hands of My Xuyen carvers, have made raw wood soulful."
My Xuyen craftsmen use chisels to create intricate patterns. But creating work that has soul requires aesthetic sense, creativity, and manual dexterity.
Phi noted, "I was born in a traditional craft village. Many young people today have a great passion for carving as I did. When I teach them, I transfer my skills and knowledge to them in the hope that they will preserve our ancestors' legacy."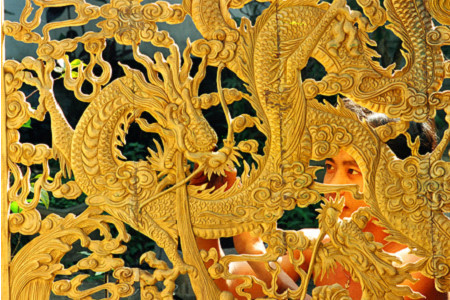 Wood carving products of My Xuyen village (Photo: thuathienhue.gov.vn)
Researcher Nguyen The says that for the past 200 years, My Xuyen has safeguarded artistic, cultural, and architectural values: "The village's artisans continually create new designs and patterns ensuring that their products will continue to be in demand both domestically and abroad."
Visitors to My Xuyen village enter the busy production atmosphere of 20 workshops and 150 workers. A festival honoring My Xuyen's first woodcarvers is held each year on the fifth day of the first lunar month.
VOV5