VietNamNet Bridge – Viet Nam is set to ban about 22,000 types of cosmetics containing five derivatives of Paraben that are suspected of causing breast cancer and male infertility.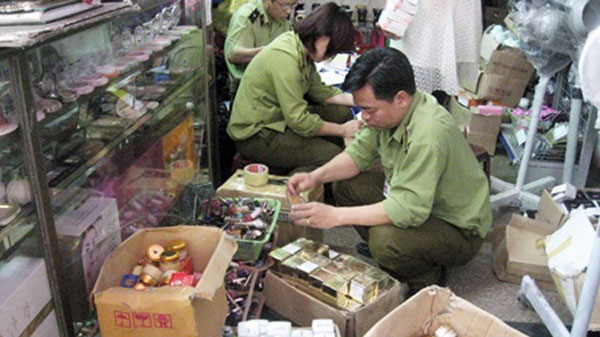 Market Watch team inspects a cosmetics store. — Photo baomoi.com
The Tien Phong (Vanguard) newspaper yesterday (July 20) cited a report by the Drug Administration of Viet Nam (DAVN) as saying all the products in question contained five paraben derivatives: isopropylparaben, isobutylparaben, phenylparaben, benzylparaben and pentylparaben.
The ban will take effect on July 30, the report said.
Paraben, a chemical widely used as a preservative in cosmetic and pharmaceutical products, is used to prevent the growth of fungi and bacteria that could be harmful to humans as well as limit the declining efficiency of drugs.
The drug management authority, which functions under the Health Ministry, also ordered limits on the use of MCT+MIT – a very popular preservative currently used in cosmetic production.
It said only a very low concentration of 0.0015 should be used in producing detergent products, but the preservative should not be used in cosmetics.
Tien Phong quoted Nguyen Tat Dat, DAVN Deputy Director, as saying the list of items that have valid licences has been announced on the DAVN website.
Dat also said enterprises violating the ban would face strict punishments, including cash fines, seizure of products and the revoking of trading licences.
Earlier this year, the DAVN had called on provincial health departments to help local hospitals, health clinics and drug and cosmetics stores to stay updated on information regarding Paraben.
It also asked drug and cosmetic makers to minimise the use of Paraben in their products, encouraging them to use natural or other non-chemical preservatives instead.
These moves followed a report by the French newspaper Le Monde that claimed that Paraben was detected in some 400 medicinal products, including toothpaste and baby cosmetics, available throughout France. The report caused considerable concern among Vietnamese consumers.
Previous studies conducted by British and French scientists have suggested that Paraben might be associated with male infertility and breast cancer.
Le Van Truyen, a pharmaceutical expert, said Paraben has high anti-bacterial and anti-fungal properties, so it was used widely in the production of cosmetics.
He told Tien Phong that Paraben could be found in the urine of people who consume cosmetics containing the preservative. It could even be found in the blood of those who used body cream just several hours after use, he said.
VNS