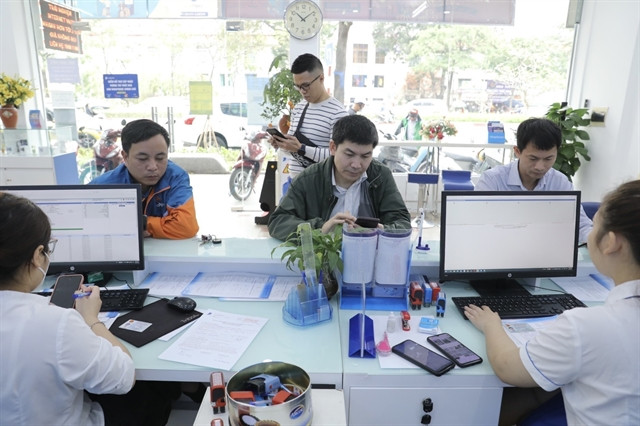 Mobile phone subscribers register their personal information at a Vinafone store. VNA/VNS Photo Minh Quyết
Deputy head of the ministry's Department of Telecommunications Nguyễn Phong Nhã said as of March 21, about 1.1 million subscribers had provided accurate personal information, including name, identification number and profile picture.
The information has matched the national database on population, which contains nearly 4 million mobile phone subscribers from popular carriers like VinaPhone, Mobifone and Viettel.
Although there are six days left to add information, the number of subscribers updating personal information as required in recent days has slowed, according to Nhã.
MobiFone and VinaPhone carriers told the online newspaper zing.vn that in the first several days, the carriers received updated information from about 200,000 subscribers each day.
The number decreased to 150,000 subscribers as time passed.
Authorities estimate that the mobile carriers have completed the information update from 27 per cent of total acquired subscribers.
According to the mobile carriers, a large number of mobile subscribers have more than one SIM cards or rarely use the SIM cards they have bought, so they didn't receive notifications from the mobile carriers about the information update.
Under Decree 49 on mobile telecommunications, all SIM cards bearing incorrect information or even lacking identity information of their owners must be deactivated by the end of this month in an attempt of eliminating junk SIM cards.
Mobile phone providers will send notifications to subscribers with incorrect information to ask them to update their details.
Those who fail to register their information as required will have their outgoing calls blocked in the first 15 days and have the service disconnected in the following days.
Mobile phone carriers said overloading may occur near the deadline of the information update, and recommended users update the information soon through online or in-person channels.
The department has asked mobile phone providers to actively review and notify subscribers in appropriate forms to ensure that all users will receive notifications. – VNS