In the bustling Old Quarter of Hanoi, many tourists passing by the Phuc Loi Stamp at 6 Hang Quat Street, Hoan Kiem District, are captivated by an old man sitting in his shop, wrapped in carved wooden figures.
Artisan Pham Ngoc Toan, 65, has been diligently pursuing a special craft in Hanoi for nearly four decades.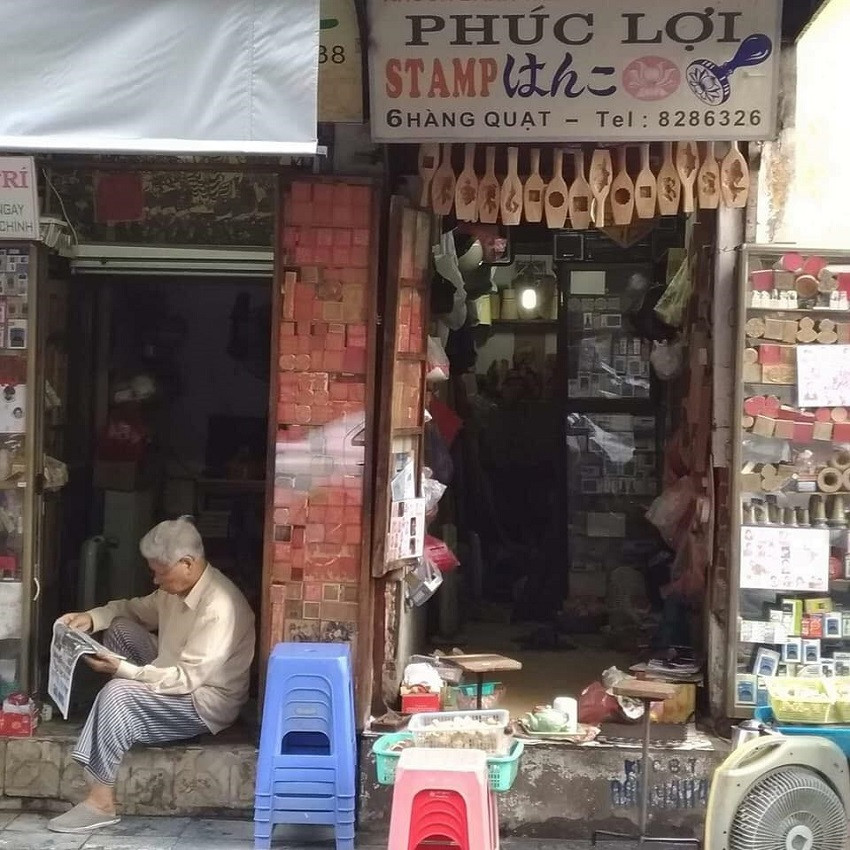 Quit teaching to teach woodblock printing
Despite the hot weather at midday on an early Summer day, the old man was still busy arranging and repairing hundreds of wooden stamps of all shapes and designs in a tiny shop in Hanoi's Old Quarter.
Taking a break with a sip of tea, Toan said Hanoi was famous for its 36 streets with countless arts and crafts. In particular, Hang Quat Street, where he has lived for nearly 70 years, is known for its sculptures and engravings, including wood carvings.
In today's Old Quarter, there are only a few shops where the craft of wood carving by hand is still practiced.
"This craft is a family trade, so I have been attached to it since I was a child. Outside school, I would sit with chisels and knives to practice carving. In 1993, I was working as a maths teacher, but my salary was not enough to live on. So I decided to quit my job and stick to wood carving," Toan recalls.
On less than six square meters, Toan's shop displays a wide range of wooden stamps. According to the 68-year-old artisan, to make a wood stamp, the first step is to choose a type of wood that is flexible and easy to carve in, then let it dry for one or two days.
"The hand-carved wooden stamps require more effort than the manufactured ones. Simple motifs can be engraved in 10-20 minutes, but complicated ones can take a whole week," said Toan.
Next comes the carving step, which is the most demanding and determines the final product. The craftsman must meticulously use knives, chisels, and small rasps to cut meaningful patterns in plain woodblocks. It is possible to learn the craft in as little as two months, but it takes two to three years to produce exquisite products.
After over 40 years of working with wood stamps, Toan is still trying to keep the family business alive. According to Toan, most of his customers are foreign visitors or overseas Vietnamese who love the art of wood carving.
"I always come to the shop when I have a chance to visit Hanoi. This Hanoian craftsman is famous all over the world! He's very humble and always excited to see how we have used his stamps in my work," Hoang Moon, a customer of Phuc Loi Stamps, told The Hanoi Times.
"The price hasn't changed much for decades, while the wooden seals are hand-carved with great care," he added.
A stamp from Toan's shop usually costs VND70,000 (US$2.9), regardless of the number of details or length of words. Because he loves his work, he doesn't care about prices. Sometimes, just seeing his customers happily receiving products is enough to warm the craftsman's heart.
"I have not raised prices for many years, so customers have never complained, even foreign customers," he said.
For Amy Scott, a visitor from the UK, a wooden stamp is a wonderful gift from Hanoi. "We exchanged a digital picture, and less than 24 hours later, we had a super fun stamp! I've just emailed a request for another stamp as a gift, as we are so pleased with how our stamp turned out. What a wonderful gift idea!" she shared.
As long as there are customers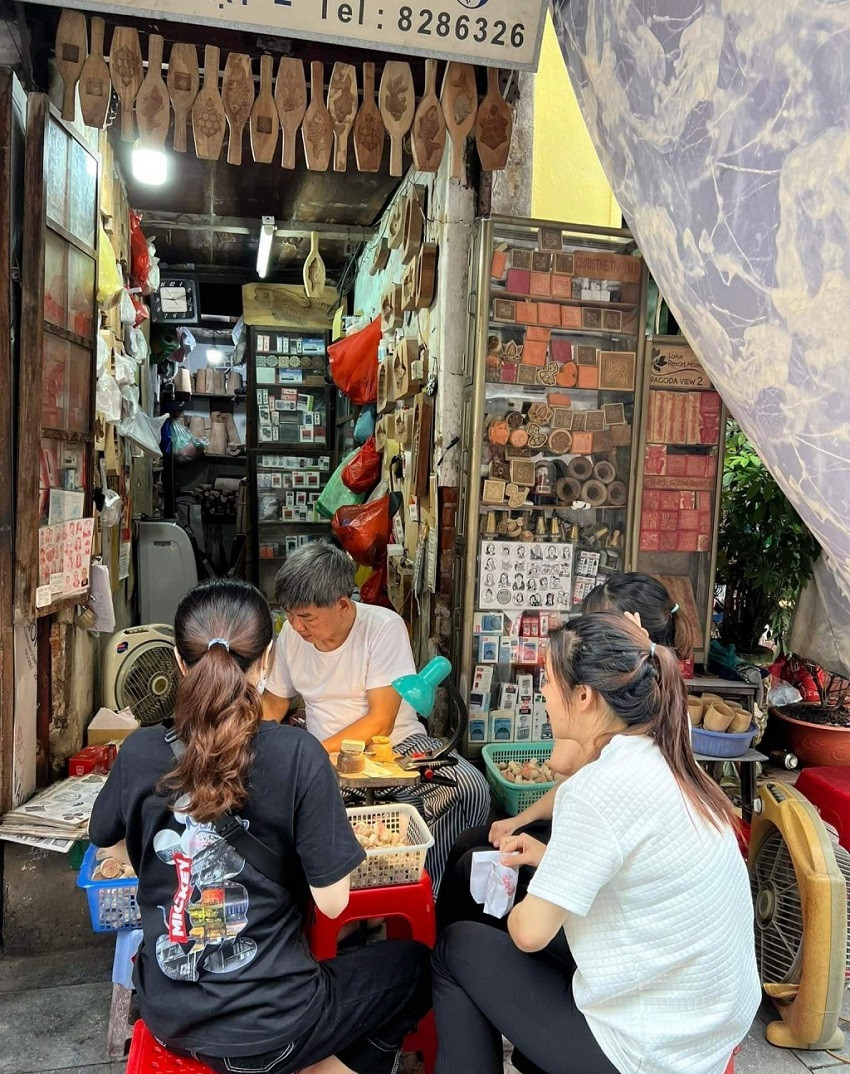 With the passage of time, the craft of carving wood stamps by hand is gradually dying out, and Toan is still sitting there, trying to keep the family trade alive and find a successor.
As the craft slowly disappears, Toan is tossing and turning because he hasn't found a successor.
"In recent years, with the development of society, this woodcarving craft is gradually disappearing. Now there are not many people doing it in Hanoi, and most of those who do are our relatives.
I have opened a free training class with free food and accommodation and even pay the trainees for the products they sell. Many young people come here for training but often quit after a few days. I'm just hoping for a successor to carry on the trade, but it's difficult," Toan said, worried.
Growing up, Toan witnessed his family's struggles as woodcarvers. With his passion for the craft deeply ingrained, Toan, now nearly 70 years old, is still fascinated by wood carving. He has spent most of his life working in the family business and sees the craft as a job and destiny.
"When people of my generation were young, there weren't as many toys as there are now. I used to make wooden stamps with pictures of characters from the 'Journey to the West' film series, then take them to school and stamp them on paper for my classmates.
Each sheet full of prints was exchanged for five blank sheets. I always boast that I know how to do business since I was in school," Toan laughed.
Every day, many customers still come to the old craftsman's shop to order woodblock prints; some just come to listen to his stories.
"A Japanese tourist who visited my shop once returned and gave me books and a map in Japanese," Toan recalled happily.
He added that the greatest happiness for artisans is to welcome their customers back. Some customers who live on the other side of the world have returned to his shop after many years.
Source: Hanoitimes