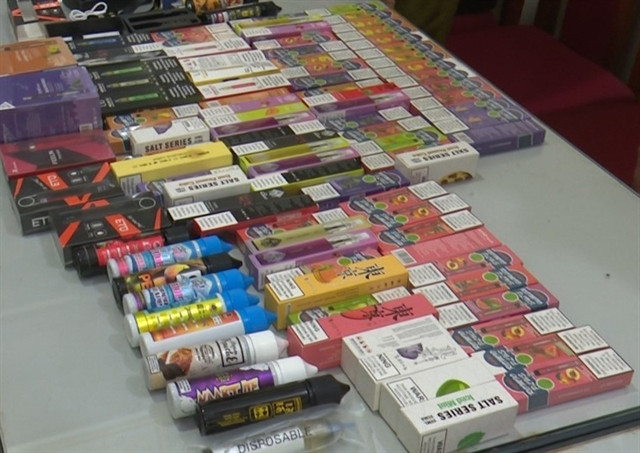 Hà Nội's health department said that there is nicotine and around 15,500 types of flavourings used in e-cigarettes and heated tobacco products (HTPs), many of which can cause harm to users' health. — VNA/VNS Photo
Several students were admitted to the emergency room in cases related to e-cigarettes, raising alarms among parents and schools about the presence of the device on campus.
On April 4, three students exhibited signs of fatigue and nausea after drinking tea given by one of their school friends. They were immediately taken to the emergency at Military Hospital 103.
One of the students later admitted that they put a couple of drops of liquid used for e-cigarettes in the bottle as a prank.
On the same day, there was another case of an 11th grader who suffered from dizziness and fatigue, then collapsed on the classroom floor after using a vape pod from another student.
All the students are in a stable condition.
According to a 2022 report on the use of cigarettes among students by the health ministry, e-cigarettes have an increasing presence in schools, especially with the introduction of new tobacco products.
The percentage of people aged above 15 who use e-cigarettes rose from 0.2 per cent in 2015 to 3.6 per cent in 2020.
This figure is 7.3 per cent for the age group of 15 to 24.
In the age group of 13 to 15, 3.5 per cent of the students use e-cigarettes, of which 4.3 per cent are male and 2.8 per cent are female.
According to Hà Nội's health department, there is nicotine and around 15,500 types of flavourings used in e-cigarettes and heated tobacco products (HTPs), many of which can cause harm to users' health.
Dr Nguyễn Tuấn Lâm, an expert from the World Health Organization in Việt Nam is concerned about how these products are becoming popular with young people.
"Using nicotine during adolescence can cause harm to the parts of the brain that control attention, learning ability and mood," said Dr Lâm.
"It can also increase the risks of addiction to other substances in the future."
The health ministry has also proposed to ban all new-generation tobacco products, including e-cigarettes and HTPs in November last year.
Raise the awareness
With the recent cases involving e-cigarettes among students, Nguyễn Thị Thương, a Hà Nội resident whose son is in Grade 6, realised that the risks are very present.
Thương said: "I immediately warned my son about the problem. We went on the internet together to search for information, from the diversity in forms to the use and harms of this type of tobacco.
"Nowadays, there are many forms of e-cigarettes, so I thought that only by learning about it can help my son be more aware and identify them if he is exposed to the devices, or got carried away with his friends."
Ba Đình District People's Committee has also required schools to raise awareness among parents and students on the matter.
Following this direction, Nguyễn Tri Phương Secondary School held an information session on security on campus and advised them against using or trading e-cigarettes.
Meanwhile, in Thanh Trì District, the education and training department has required schools to communicate the harms of new-generation tobacco products and drugs among students.
According to the head of the department Phạm Văn Ngát, this is a complicated matter that requires the engagement of parents and authorities, security forces and State management agencies, alongside the educational sector. — VNS