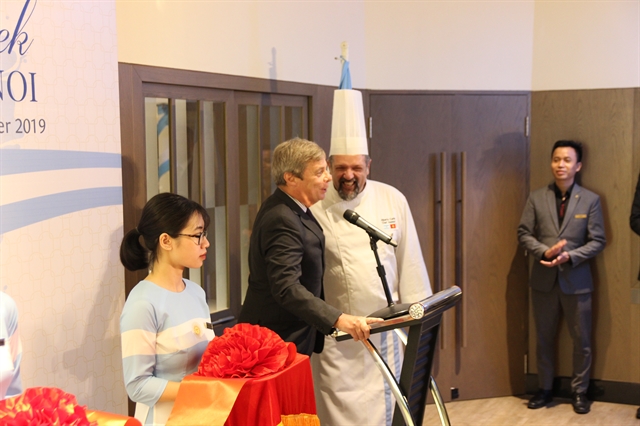 Argentinean ambassadorJuan Valle (second left) and chefAlberto Curia (second right) seen at the opening of'Argentinean Gastronomic Dinners' on Thursdayat Pan Pacific Hanoi. — Photos courtesy of PPH
"People may think the role gives me some pressure, but actually it doesn't. Working on behalf of my country is a wonderful privilege. The role not only helps me inspire others, but also grants me the opportunity to show to the world our culture through our Argentinean cuisine," said the chef, who is conducting the on-going 'Argentinean Gastronomic Dinners' co-organised by the Pan Pacific Hanoi (PPH) and the Argentinean Embassy in Hà Nội.
With more than 20 years of experience working with Argentinean and Mediterranean cuisine, Curia travelled all over the world to fulfill his "ambassador's mission".
"I always present gourmets with my food creations using traditional recipes with a touch of contemporary cuisine," he said.
In addition, in every country where he sets foot, the chef always tries to find suitable local ingredients to add local flavour to his traditional Argentinean recipes.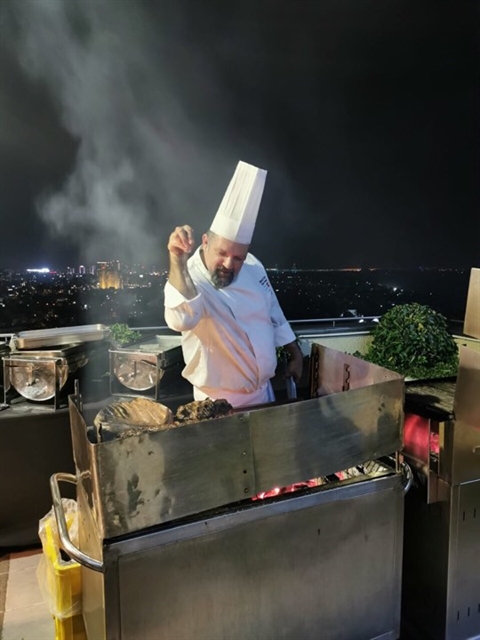 ChefAlberto Curia prepares Asado or Argentinean BBQ for guests on September 12at Pan Pacific Hanoi.
Moreover, guests can also enjoy a wide range of traditional delights from Argentina such as Locro, rolled stuffed beef, Southern fish Croquettes with Homemade Aiolí, Milanesas, Pork "bondiola" with Malbec plum sauce.
The 'Asado BBQ Buffet Dinner' is available between 6pm and 10pm at The Summit Bar, Level 20 of the PPH until September 14. For more information, dial +84 24 38238888.
During his short opening speech on Thursday, Argentinean ambassador Juan Valle said that this is the fifth time a gastronomy event dedicated to Argentinean cuisine has been held in Hà Nội, and the third time the embassy has invited chef Curia to fly over to lead the event.  
"Gastronomy is a significant part of our culture and our people. That's why, through the gastronomy, we want to introduce part of our culture to other people," said the ambassador. — VNS