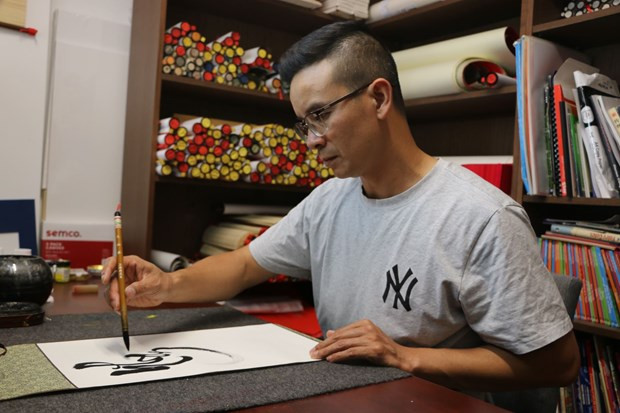 Seeking calligraphy works of lucky words is among the elegant hobbies of Vietnamese people during the traditional Lunar New Year (Tet) holiday and an overseas Vietnamese calligrapher in Australia has been popularising the practice among international friends and Vietnamese youth who were born and grew up overseas.
Tran Van Tuan has pursued calligraphy for nearly 20 years. For him, calligraphy is not just a hobby but a passion.
Learning calligraphy not only helps him to better understand the culture and history but also is a way to relax and purify his soul, he said.
With the desire to preserve the cultural identity of Vietnam, and help young generations learn about their homeland, Tuan overcame difficulties to pursue calligraphy.
The image of Tuan - a man wearing a traditional Vietnamese "ao dai", writing calligraphic works - has become so familiar to visitors at Tet fairs of Vietnamese in Australia over the past decade.
He impressed the audience with his calligraphic works in English expressing the hope for peace, prosperity, and happiness.
A time to share
Caring and sharing is also a fine tradition of Vietnamese people when celebrating Lunar New Year (Tet) festival.
Preserving the tradition, the Vietnamese Embassy in Singapore, agencies, and overseas Vietnamese in the country on January 19 visited and gave Tet presents to more than 80 Vietnamese workers who spent Tet holiday away from home this year.
Each present, consisting of "chung" cakes, tea, coffee, sweets and instant noodles, is meant to help the workers feel closer to home during the traditional Vietnamese festival which is always associated with family reunion.
On this occasion, an overseas Vietnamese in Singapore Nguyen Thi Be Hai, owner of a chain of restaurants in the country presented lucky money to 84 Vietnamese workers./. VNA