"Brain drain" a problem from AEC
Vietnamese enterprises may struggle to compete in attracting and retaining the best talent in the region as workers move between countries under the AEC.
Vietnamese enterprises may well face a shortage of mid-level personnel from the establishment of the ASEAN Economic Community (AEC), according to a report released recently by Navigos Search and its parent group, en world group, focusing on Vietnamese, Thai, and Singaporean candidates.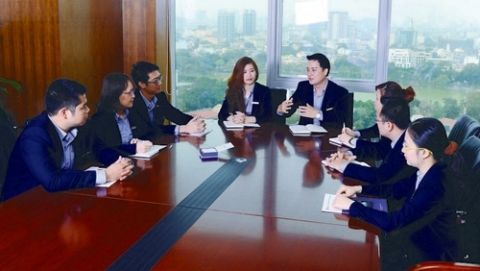 Forty-eight per cent of Vietnamese respondents to the survey said they would move to their chosen country if they have the opportunity, compared to 32 per cent and 40 per cent for Thai and Singaporean respondents, respectively.
Although this data is from a survey conducted on a company-level scale, it anticipates a mid-term prospect where once Vietnamese mid-level candidates are confident and ready to look for job opportunities in regional countries, enterprises in Vietnam may have face a shortage of such candidates with the requisite expertise and experience.
On the one hand, the readiness of mid-level Vietnamese personnel to work in regional countries and to settle in their chosen country indicates that enterprises in Vietnam will have to address "brain drain", especially in mid-level personnel, according to Ms. Nguyen Thi Van Anh, Managing Director of Navigos Search.
"On the other hand, enterprises also have a major opportunity from being able to approach and recruit highly-qualified personnel from regional countries," Ms. Anh added.
This, however, begs the question as to whether or not have they are prepared for the diversity in corporate culture and have a corporate governance team with the proper skills to manage foreign personnel from other cultures.
Singapore the most attractive
Seventy-one per cent of Vietnamese respondents said that Singapore was the best country to work in and where they could earn a higher remuneration package, have more career development opportunities and, especially, gain the ability to work in an international environment.
Thai respondents also consider Singapore the most preferable place to work, while Singaporean respondents regard Thailand as the best place to head, where they can experience a completely different culture.
Most attractive work locations in the AEC
Source: Navigos Search & en world group
Disadvantages for mid-level Vietnamese personnel
Although Vietnamese respondents have a desire to work in other regional countries, in reality the survey's data shows that they are not sufficiently prepared to do so. Seventy per cent of Vietnamese respondents have between five and over 20 years of experience but 60 per cent say they need to improve their English skills.
Respondents have also not paid adequate attention to creating and updating their personal profile on professional online job websites, with 59 per cent confirming they need to do this.
"The lack of the above-mentioned skills may make Vietnamese candidates lose their competitive advantage in Vietnam and even the opportunity to migrate to work in AEC countries," the report noted.
Respondents also highlighted other barriers. For example, many are concerned about the lack of information on policies for foreign workers in the host country and its relevant policies and laws. Family is also factor that discourages them from working abroad.
Thai and Singaporean respondents said they would ask domestic recruitment agencies or those in the chosen country for information, while their Vietnamese peers failed to mention this type of support.
Vietnamese respondents believe they are hard-working and have the ability to learn quickly and also adapt quickly to changes.
Meanwhile, Singaporean respondents said they have good English skills, possess a global mindset, and have the ability to work independently.
"It can be seen that the self-evaluated strengths of Vietnamese respondents are insufficient to help them be confident about the opportunity of working abroad," the report added.
VN Economic Times