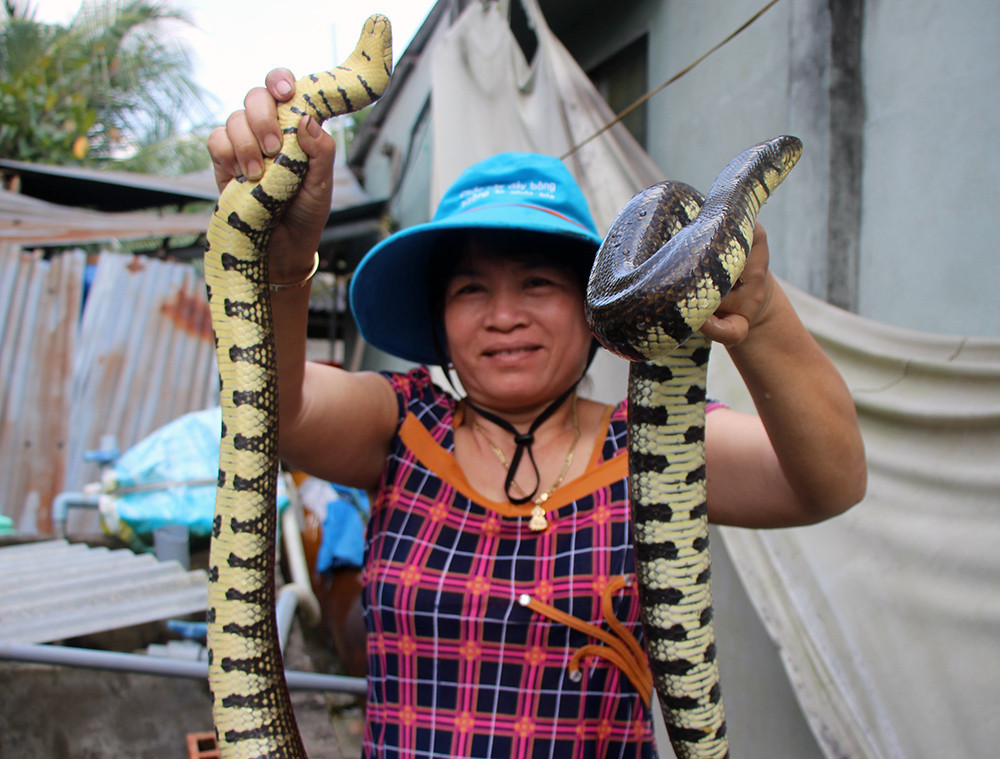 At noon, Mrs. Tran Thi Y in Tan Hoi commune, Cai Lay town (Tien Giang) helped her son Nguyen Van Nhut Khanh, 31, feed his thousands of snakes. She said that Khanh had left to deliver snakes to his customers so he could not return on time to feed the snakes.
Khanh's snake farm is one of the biggest of its kind in Tien Giang.
After graduating from high school, Khanh joined the army, and when he returned, he became a hired worker in HCM City. In 2011, Khanh tried to farm rabbits but failed. At that time, he heard about breeding snakes in the media. After a period of learning how to farm snakes, Khanh built cement tanks and bought 100 breeding snakes.
"This species of snake is meek, not toxic and has high economic value. At first, I invested VND80 million ($4,000) in raising snakes," Khanh said, adding that VND80 million was huge 11 years ago, and if he had failed, he would have incurred big losses.
The snakes are easy to raise. They rarely catch diseases and they don't require special care. He just needs to feed them once every 5-7 days. The main food for them is sheatfish (Clariidae).
At present, there are over 20 snake tanks in the farm, averaging 10-15 snakes per square meter. In the tanks, Khanh places plastic wires for snakes to hide below. To create a natural environment for snakes, he also puts water hyacinth, vegetables and duckweed into the tanks.
"Snakes are species which like hiding, so it is necessary to create a living environment that makes them feel comfortable. If so, they will grow rapidly," he said, adding that he just needs to put sheatfish into the tanks, and snakes will eat the fish and change skin to grow.
Khanh changes water in the tanks and cleans the tanks to create a good living environment for the snakes.
After 1.5 years, snakes can reach the weight of 1.5 kilograms and begin reproduction, Khanh said.
Hoai Thanh