Building a respectful homestay culture: Both host and guest hold responsibility

Over recent years, Vietnamese tourism has been booming. As travellers relish their freedom and more and more types of services and accommodations are created, homestays still stand out as one of the most popular for their simple and cosy beauty.
Homestays offer a taste of local life
Homestay service makes Moc Chau more appealing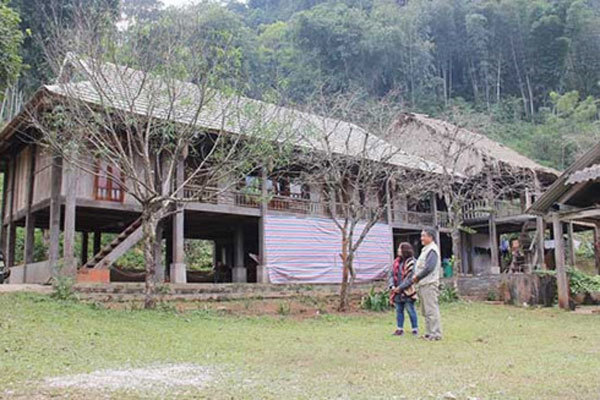 Illustrative image -- Source: VN Economic Times
People across the country have noticed the rising demand. There are five to six times more homestays in the country than there were two years ago.
A survey by Airbnb, the US-based online marketplace for lodging and tourism experiences, showed dozens of homestays in Ho Chi Minh City's District 1 and similar numbers for cities like Da Lat, Hanoi and Hue. There are even more in Da Nang.
In big cities, most homestays try to build an image of polite, simple luxury. In smaller cities and rural areas, homestay owners often focus on local features and unique cultural activities to attract guests.
Tran Trung Dung, a resident of HCM City's District 6, said he especially likes small homestays like one he visited in the city of Sa Dec, Dong Thap Province.
"The house is located in Tan Quy Dong Village, which is beautiful and peaceful," he said. "The hosts of homestays in the Mekong Delta cook delicious dishes and true to local tastes. When I was there, some groups of foreigners were staying for more than a week, but they still ate lunch and dinner there every day because the owner changed the menu constantly and the food was amazing."
Despite the draw of gaining some extra income, homestay owners have recently started to complain about rude guests who show no awareness they are staying in somebody else's space.
Netizens have also taken notice, with many expressing their outrage on social media.
In one recent case, a hotel owner claimed a young couple brought their dog into the room despite rules against pets. They allegedly shaved the dog and left the hair strewn around the room, Worse still, the dog defecated on the bed and the couple did not make any effort to clean it up.
The hotel manager also posted photos of empty bottles, leftover noodle cups and other waste left in the room by the couple.
"When one of my employees asked them to pay an extra hygiene service fee, they refused, saying it had already been included in the cost of the room," said the owner.
Some travellers from Da Lat and Ha Long Bay lately shared the story of a group of visitors that rented a homestay and left it in a horrible state.
"After they checked out, I saw them throwing garbage all around the room, using a bath towel as a cleaning cloth, and leaving burned food stuck to the saucepan," the host said. "We asked them for compensation but after they paid, they rated my homestay one star on Facebook."
The group had to apologise the host after being slammed by social media users once the story came out.
As a tourist myself, I do not think travellers need to leave the room as clean as it was when they arrived. However, they should collect their own rubbish and make sure they do not damage any of the property of the accommodation, especially when they are staying in someone's home.
Along with the attitude of visitors, the awareness of hosts has been a point of controversy as well.
Guests have complained the true conditions of some homestays in Da Lat are drastically different from the advertising images posted on booking sites.
"Several homestays in Dong Nai Province are not very sanitary, with dirty beds that are not cosy enough," said one guest.
Nguyen Phuong Ha, a resident of HCM City's District 1, said that three months ago she took a solo trip to Da Lat.
"I found a nice accommodation surrounded by a pine forest not too far from the city," Ha said. "When I got to the room, I was shocked to find the window with its romantic view in the online images had been shut tight. You cannot open it, and it is like you are trapped in a closed box. The pine forest image is also taken from… another location, not here."
I also agree with Pham Ngoc Thu, a PR official who has been to more than 20 countries, that while the homestay trend has caught on, some service problems remain and many accommodations are not fully qualified.
"Visitors like to stay in a finely decorated house, meaning they are provided with 'local' cultural space but the house must also have standard utilities like a modern toilet and a clean and fresh bed at least," Thu said. "Besides, you have to stay true to your service which is offered."
The homestay business in Vietnam is still a young field and there is still time for it to grow and create a more professional and satisfying experience for foreign visitors, but realising that goal requires respect and cultural awareness from both hosts and guests. VNS
Vu An