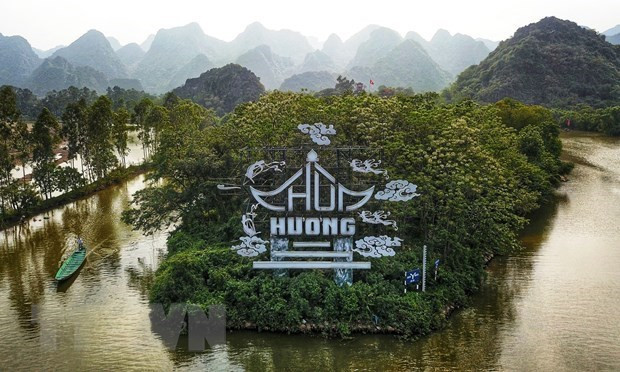 Huong Pagoda is among the famous destinations visitors can go by bus to. (Photo: VNA)
It's a good transport option to famous destinations around Hanoi such as Huong or Perfume Pagoda, Ba Vi National Park, Duong Lam Ancient Village, among others, The Hanoi Times reported.
The buses, however, will be packed during weekends or rush hours. For a fun and affordable picnic, travelers should book a trip on weekdays or during off-peak hours.
The Hanoi Times suggests some bus routes departing from downtown Hanoi to popular tourist destinations on the outskirts, as follows:
Bus No.103A will stop at the famous Huong Pagoda in Huong Son commune, My Duc district, Hanoi. Located 60 kilometres southwest of Hanoi, the Perfume Pagoda is a famous temple worshiping Buddhists and a spectacular sightseeing spot in northern Vietnam, consisting of a complex of Buddhist pagodas and shrines perched on the limestone cliffs of Huong Son or Perfume Mountain.
Bus No.107 departs from PTA Building at No.1 Kim Ma Street to Vietnam National Village for Ethnic Culture and Tourism in Hanoi's outlying township of Son Tay. Located some about 40km from the city centre, the village is considered a national center of culture, sports, and tourism activities, where the traditional cultural heritages of 54 Vietnamese ethnic minorities are kept and promoted.
The complex features a total area of 1,544ha with seven functional zones. Among them, the zone for ethnic minority villages is considered the heart of the site.
Bus No.110 will take travelers to Ba Vi National Park in Ba Vi district, Hanoi. Covering an area of 10,814.6 ha and located about 60 km west of Hanoi`s downtown, with fresh and cool alpine climate, Ba Vi National Park has become an ideal destination for domestic and foreign visitors.
Bus No.47A and No.47B will arrive at Ecopark urban area in Van Giang district of Hung Yen province. Just a 25-minute drive from downtown Hanoi, Ecopark is considered the most livable and classiest eco-town in northern Vietnam, with special housing projects built with green technology. There are open spaces filled with the breath of nature, four large parks, tons of trees, and a complete system of sports, leisure, and educational facilities.
Buses 20B, 70 and 71 stop at Son Tay bus station. Take a cab to the nearby Duong Lam Ancient Village in Son Tay Town. Located about 60 km west of downtown Hanoi, it is the first ancient village to be recognised as a national relic by the Ministry of Culture and Information. Two famous Vietnamese kings, Phung Hung (761-802) and Ngo Quyen (896-944) were born in Duong Lam, which gave prestige to the village. The ancient village has about 1,200 years of history and many houses date back 400 years. Its gate, banyan tree, well and communal house are important factors in classifying Duong Lam as an ancient village in Vietnam.
Buses No. 47A, 47B and 52B will take visitors to Bat Trang Pottery Village in Gia Lam district, Hanoi. Just walk for around 100m from the bus stop to the village market then stroll around to explore one of the funkiest travel destinations around Hanoi./. VNA