Truong Viet Dung, deputy director of the Hanoi's Department of Planning and Investment, speaks to Hà Nội Mới (New Hà Nội) newspaper on what the city has done to become a leader in attracting foreign investment.
Hanoi remains Vietnam's most appealing destination for foreign investment
Hanoi attracts investment for environment and consumption of agricultural products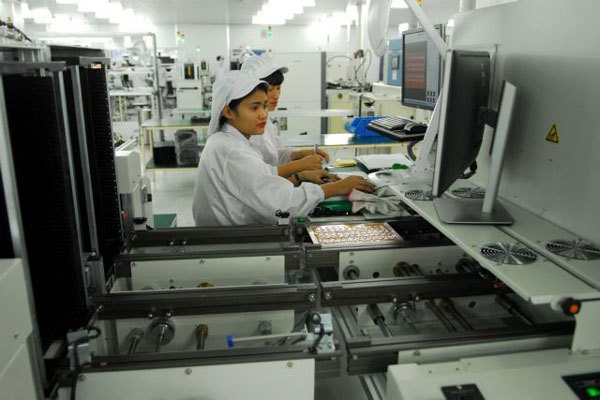 Worker at an assembly line of the South Korean-invested Synopex Viet Nam Co Ltd in the Quang Minh industrial park in Hanoi. — VNA/VNS Danh Lam
In the first six months of 2019, Hanoi remained a leading locality in attracting foreign investment. What is Hanoi doing to attract foreign investors?
Our investment and business environment has improved considerably. This is a driving force for the city to attract foreign investors. From early 2019 to June 20, Hanoi has attracted more than US$4.9 billion in foreign investment – accounting for 28.6 percent of the total foreign investment in the country. It is estimated that in the first six months of 2019, Hanoi was the top locality in the country in attracting foreign investment with a total sum of about US$5.3 billion.
Some highlights could be mentioned including the $500 million multifunctional entertainment complex with a horse racing course in Soc Son District, which is awaiting finalisation of investment procedures by the Ministry of Planning and Investment.
What is the driving force for Hanoi's success?
In my opinion, the main factor is municipal authorities' determination to improve the investment environment and carry out administrative reform, especially stepping up the application of information technology in handling business registration or investment registrations, tax, insurance and land use, as well as increasing transparency in land planning and sector planning.
The city authorities have also vowed to stand with foreign investors throughout the course of their investment.
Hanoi will continue to do its best to make the city an attractive address for both domestic and foreign investors in all domains, including culture and cuisine.
In terms of tourism, the city's authorities have targeted the US, European countries, South Korea and Japan as "key markets" to focus our tourism promotion efforts.
What have foreign investors contributed to Hanoi's socio-economic development?
The foreign investment sector has contributed considerably to the city's development in recent years. Foreign capital has increased the total social investment fund – an important factor in maintaining a high gross regional economic product (GRDP) for Hanoi. This capital flow has increased year on year, helping the city integrate deeper into the global economy, particularly in the regional production chain, as well as create new jobs for the city's growing young population.
The strong development of the foreign investment sector has also become a driving force for domestic enterprises to update their technology to produce better quality products and to raise the national economy's competitiveness to a higher level.
Does Hanoi have the potential to attract even more foreign investment into the city?
The international and regional situation has developed rapidly and has presented both opportunities and challenges for Vietnam. In 2019, the country's economy has integrated further into the international economy. Vietnam has become a member of many regional and global free trade agreements, including the ASEAN-China Free Trade Agreement and the Comprehensive and Progressive Agreement for Transpacific Partnership. More recently, Vietnam became a member of the European Union-Viet Nam Free Trade Agreement (EVFTA) and the EU-Viet Nam Investment Protection Agreement. These two agreements are expected to be signed on June 30.
As a result, a number of duties are expected to be dropped to 0% – a big opportunity for foreign investors to invest into Vietnam and especially Hanoi.
Hanoi has decided to give priority to foreign investors in certain areas such as urban infrastructure development, information technology, innovation, tourism, education and training. In 2019, Hanoi has set the goal of attracting more than U$7.5 billion in foreign investment.
VNS