Vietnamese export companies are seeing their seafood products stuck on the way to China at Mong Cai border gate in Quang Ninh province.
Dang Thi Diu, director of Nam Phu Hai Aquaculture, said exporters now have to satisfy stricter requirements.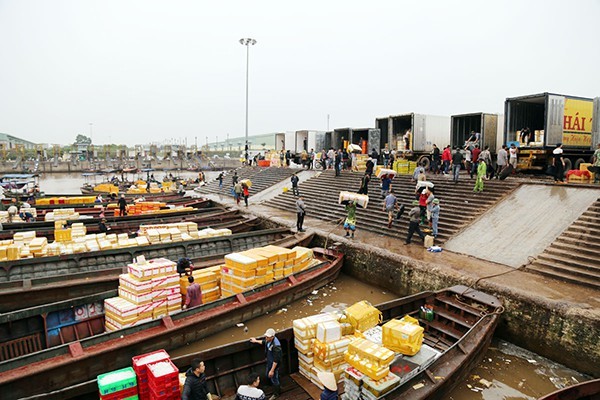 In the past, enterprises just had to put shrimp into foam boxes with ice when exporting products. This saved money while ensuring preservation efficiency. But now, to meet the requirements of exporters, enterprises have to freeze products and provide the codes of aquaculture areas.

According to Diu, the freezing cost is unaffordable for many enterprises, which increases production costs and makes shrimp products uncompetitive.

Exporters are also meeting other difficulties. "China is the key export market for many enterprises in Mong Cai. They don't have information and cannot get support from appropriate agencies to satisfy the requirements from partners," she said.

Vietnamese export companies are seeing their seafood products stuck on the way to China at Mong Cai border gate in Quang Ninh province.
The difficulties in exporting seafood products to China recently have been blamed on the both state agencies and enterprises.
Chinese agencies said that seafood exports to China must show quarantine certificates and certificates of origin. Besides, the packs must show words in Chinese and English which come in line with the Chinese regulation on packaging.

However, Vietnamese parties don't know the regulations.

To rescue seafood export companies, Quang Ninh provincial authority has organized seminars and meetings about the Chinese regulations. It sent letters to Nan Ning Customs Agency requesting the agency to pave the way for Vietnamese enterprises to continue exporting seafood products to China.

In mid-October, the Chinese General Administration of Customs sent a diplomatic note that said China will accept three more seafood products, including oyster.

Commenting about this, Diu said this is good news, but oysters are not the only aquatic product Quang Ninh wants to export. The province also has shrimp, fish and jellyfish and wants to export the products as well.

Deputy director of the Quang Ninh provincial Department of Agriculture and Rural Development Nguyen Van Cong confirmed that Quang Ninh has many other products facing difficulties in export. He asked enterprises and farmers to contact the department and relevant agencies to discuss how to meet requirements, follow procedures and control product quality to boost exports.

"The biggest problem now is dealing with the products getting stuck at border gates and the products to be harvested in some days," Cong said.

The official said the Quang Ninh Industry and Trade Department is joining forces with other agencies to learn information about new policies, and to exchange views with China to settle problems in cross-border trade.
Mai Lan

The Internet boom, a young labor force and the strong development of e-commerce all help Vietnamese businesses access foreign markets, especially now that many next-generation FTAs have been signed.

Increasing exports to the US, Vietnam is a step closer to the risk of alleged monetary manipulation as US President Trump tries to reach a trade agreement with China at a negotiation round this October.