With 3.3 million motorbikes bought each year, the fourth largest market in the world for motorbikes continues to grow, with manufacturers launching new models into the Vietnamese market.
The Vietnam Association of Motorbike Manufacturers (VAMM) says that 3,386,097 motorbikes were sold in 2018, an increase of 3.5 percent over 2017. In Q1 2019, the total number of products sold by its five members, namely Honda, Yamaha, Suzuki, SYM and Piaggio, were 753,934, of which the sale of Honda accounted for 74.6 percent.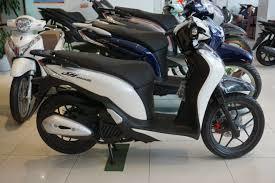 These figures were released by foreign invested motorbike manufacturers in Vietnam. Other brands also have products sold in the market, from popular brands such as Kymco to better known ones such as Kawasaki.
Soon after launching Freego, a scooter model for men in mid-May, in early June, Yamaha Vietnam introduced Latte 125 cc for women.
The Italian manufacturer Piaggio introduced Vespa Sprint S and Vespa Primavera. In early June, it once again launched new models – Piaggio Liberty One iGet 125cc, a high-end product.
The Vietnam Association of Motorbike Manufacturers (VAMM) says that 3,386,097 motorbikes were sold in 2018, an increase of 3.5 percent over 2017. 
As for Honda, in the 2019 fiscal year (from April 2018 to March 2019) alone, 17 models were introduced to customers. The manufacturer puts a high hope on PCX Hybrid, the first two-tire vehicle model in Vietnam utilizing hybrid technology.
It also has high cylinder capacity product lines such as Naked, Super Sport, Cruiser, Adventure and Touring. A representative of the Japanese invested manufacturer said 18 new models and versions would be launched in the 2020 fiscal year.
EuroCham's White Book released in early 2019 showed that Vietnam had 56 million motorbikes in 2017, or 2.4 motorbikes for each family. Motorbikes satisfy more than 70 percent of travel demand of Vietnamese and they will still be the major means of transport in upcoming years.
According to Kawano Toshiya, CEO of Yamaha Motor Vietnam, the consumption is stable, while the taste has become different with people now wanting higher-end products, especially youth.
This can be seen in VAMM's statistics which say scooters account for 50 percent of total motorbikes sold. The proportion is especially high at some enterprises. Of 2.56 million Honda motorbikes sold in 2018, up to 1.51 million were scooters.
Gianluca Fiume of Piaggio Vietnam said the company gathers strength on making high-end scooters.
While some analysts have warned the market is getting saturated, manufacturers still are optimistic about their business. Piaggio has its engine factory in Vinh Phuc province, and an Asia-Pacific R&D center.
Vietnam is Piaggio's strategic market in Asia, while Piaggio Vietnam has helped the group penetrate new markets such as Indonesia, Thailand, Taiway, Malaysia, the Philippines and Cambodia.
Meanwhile, Honda has three factories and two supporting workshops, one supporting center and one drive training center. It began exporting products many years ago, planning to export 156,000 CBU products in 2020. 
Tran Thuy

Due to the cheap price, some businesses admitted that the quality of mopeds is quite poor and the engines would be downgraded after a time in use.  
Urban residents are still spending big money to buy luxury scooters though a possible motorbike ban in certain areas has been proposed.