Though ASEAN is an open market for Vietnam, it has not been easy to export products to the large market.
According to the Vietnam Chamber of Commerce and Industry (VCCI), in 2018, Vietnam exported $24.74 billion worth of products to ASEAN, an increase of 13.9 percent over the year before.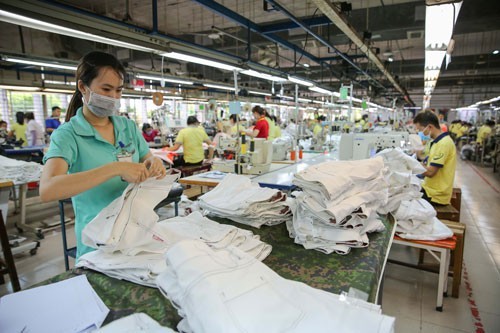 According to the HCM City Trade and Investment Promotion Center, Vietnam's goods have cemented their position in Myanmar and are developing well in Laos, Cambodia and Malaysia. The trade promotion agency is helping Vietnam's enterprises obtain Halal certification to export products to the Muslim community in the region.

Vietnam has an advantage over some countries in the region in exporting agricultural products with traceability.

Though ASEAN is an open market for Vietnam, it has not been easy to export products to the large market.
However, though the ASEAN market is large and open, it is not easy to exploit. Pham Ngoc Chau, deputy general director of Hanco Food, said enterprises need help to access information and improve production capacity and product quality.

He complained that Vietnamese trade counsellors in ASEAN countries are not willing to help businesses seek information and promote sales. In many cases, they don't reply to emails from businesses.

Bui Van Ngo Agricultural Machinery is one of a few enterprises in the field famous in both the domestic and regional markets. Nguyen The Ha, a representative of the enterprise, said the products of the companies are available in most ASEAN markets, from Indonesia, the Philippines to Laos, Cambodia, Thailand and Myanmar.

"The market potential is relatively good, but not stable. The number of orders depends on the governments' policies on investments in agriculture," Hoang said.

The director went on to say that the company hasn't had difficulties in market access and is confident about product quality, but has problems in marketing. Besides, the limited financial capability also hinders the development of the enterprise.

"Our profit is just 6-7 percent per annum. If we use bank loans, the profit would be just enough to pay interest, while we don't have money for reinvestment. We decided to 'borrow' capital from customers for our operation," Ha said.

This means that the company only makes products when receiving orders and in advance.

"If the state has a policy to better support farmers and enterprises, we will have more favorable conditions," he said.

Nguyen Lam Vien, chair of Vinamit, said the key point in export operations is meeting the requirements set by importers and the import markets. In order to exploit the 600 million people market, Vinamit has established distributors in ASEAN countries to meet the needs of consumers in each country.

"We choose distributors that can 'go a long distance with us' and build supply chains to promote the value of each side," he said.
Mai Lan 

Vietnam's import-export turnover was on target to hit US$500 billion this year, said director of the General Department of Customs Nguyen Van Can.

Vietnam's aquatic exports to the US reached US$ 1.08 billion during the first nine months of the year, despite a sharp decline in export value against the same period last year, according to the General Department of Vietnam Customs.