China has set comprehensive policies on importing farm produce, but Vietnam's exports to the market remain below expectation.
With a population of 1.4 billion, China is a vast market for farm produce.

According to Tran Van Cong, a senior official of the Ministry of Agriculture and Rural Development, in 2018, China spent up to $160 billion to import farm, forestry and seafood products from all over the world.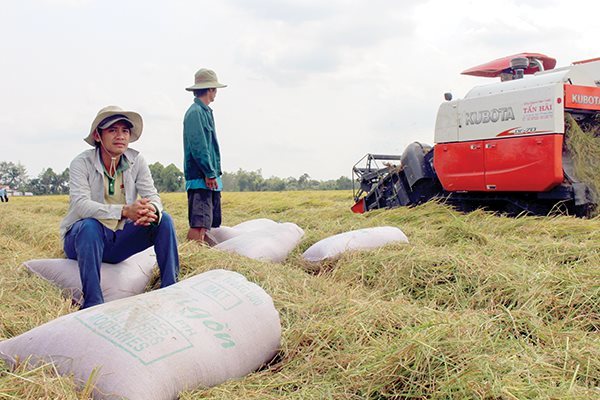 Meanwhile, Vietnam's exports to the market were worth $8.64 billion only. And in the first three quarters of 2019, Vietnam exported $6 billion only worth of these products, a decrease of 6.7 percent compared with the same period last year.

In trade with Vietnam, China has changed its policy from importing products across border gates to importing through official ways. China has also set up regulations to implement the new policy.

Regarding the import of rice, for example, the country has set regulations on food safety, growing areas, husking factories and product labelling. When enterprises can meet the requirements, they will be granted a certificate of eligibility for official exports to this country.

China has set comprehensive policies on importing farm produce, but Vietnam's exports to the market remain below expectation.
Cong said the foundation for implementing trade activities between Vietnam and China is based on the agreements signed by the two countries.
He cited a series of agreements, including the cooperation agreement in the field of food safety and animal and plant quarantine, signed in September 2016; protocol on rice quarantine exported, and re-signed in June 2016; cooperation agreement on food safety control, and imported seafood products between the two countries, re-signed in September 2012; and the agreement on plant quarantine and food safety of rice bran as animal feed exported from Vietnam to China signed in June 2016.

Besides these regulations, enterprises also have to meet other requirements on equipment, factories and testing laboratories to be eligible to export to the market.

With a sufficient legal framework, Vietnamese enterprises will be eligible for exporting products to the Chinese market once they can meet the requirements. However, exports are still below expectations.

Nguyen Viet Anh, general director of Phuong Dong Co Ltd, thinks that his enterprise still has not met requirements set by Chinese agencies because it is not really interested in the Chinese market.

In order to get a certificate to be eligible for exporting rice to China, the enterprise had to spend time and money to follow procedures, but the company focused on other markets.

Vietnamese enterprises still have not kept up to date with the changes in Chinese policies. As a result, when they bring goods to border gates, the goods cannot get customs clearance.
Kim Chi 

Hundreds of trucks carrying fruits are now stuck at the Vietnam-China border gate of Tan Thanh in Lang Son Province.

Participation in new generation FTAs opens new cooperation opportunities for businesses in Viet Nam's agricultural sector, but challenges remain.