VietNamNet Bridge - The 7.3 percent increase in the minimum wage increase for 2017 is the smallest increase in the last decade but businesses still do not like it.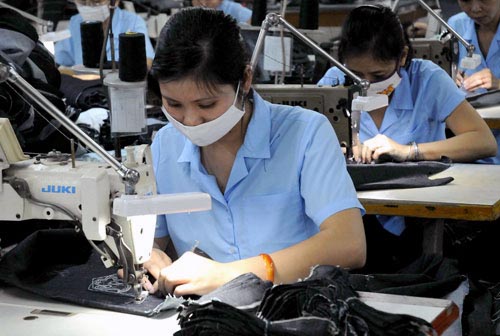 The National Wages Council with representatives of both employers and employees, and state management agencies have agreed on the plan to increase the regional minimum wage by 7.3 percent commencing from 2017.
The minimum wages would be VND3.75 million, VND3.1 million, VND2.7 million and VND2.4 million for Zones 1, 2, 3 and 4, respectively, once the plan gets government approval.
Mai Duc Chinh, deputy chair of the Vietnam Labor Federation, said he was not satisfied with the modest increase.
"We wished to see the 8.5 percent increase at minimum, while we initially proposed 11.11 percent increase after calculating laborers' expenditure and their basic needs," he said.
Chinh cited a federation's survey as reporting that 14 percent of workers said their salaries were not high enough to cover basic needs, while 35 percent said they could live with the salaries but suffered hardships. At least 35 percent said the salaries were "enough for subsistence' and only 14 percent said they could save a little money.
The 7.3 percent increase in the minimum wage increase for 2017 is the smallest increase in the last decade but businesses still do not like it.
"The current low salaries makes life hard for workers in industrial zones," he commented.
However, even the modest salary increases put a heavy burden on business owners, who are exhausted after experiencing the recession.
According to the National Wages Council, with the 7.3 percent wage increase, businesses' expenses would increase by 0.31 percent. The additional expenses businesses have to pay are expected to be even higher, about 2 percent, for businesses in labor intensive industry such as textile & garment and seafood.
"Garment and seafood companies will bear big influences," said Deputy Minister of Labor, War Invalids and Social Affairs Pham Minh Huan. "2016 is really a tough year for them because of fewer orders."
Nguyen Van Thoi, general director of Thai Nguyen Garment Export Company, complained that if the minimum wage increases by 7.3 percent, the social insurance premiums alone would cost the company 10 percent more.
With 12,000 workers, Thoi will have to pay VND500 million additionally for social insurance premiums a month.
According to the director of a garment company in Hung Yen, salaries and insurance premiums account for 30 percent of businesses' total expenses.
"We are meeting difficulties from all sides. We have to lower the selling prices to scramble for orders. Meanwhile, the input material prices keep increasing. And the minimum wage will also increase," he said.
His company had to pay VND80 billion in 2015 for social insurance premiums. With the 7.3 percent minimum wage increase, it would have to pay VND6 billion more a year.
VNE