Cafes on Hanoi train street beg to stay open
Owners of coffee shops along the train street in Hanoi have asked for local authorities to allow them to continue to operate.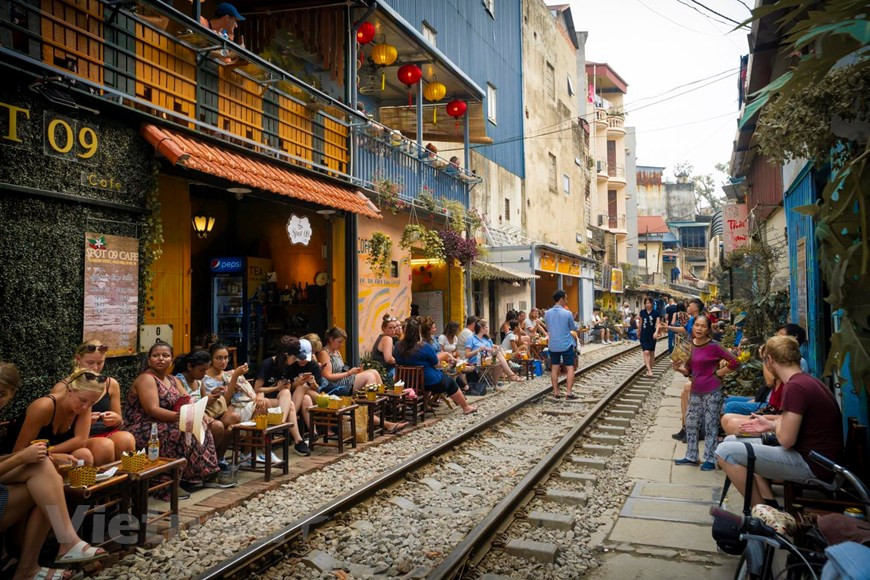 Train street which attracts lots of visitors has just been closed again and all the cafes had their licenses revoked following rail safety concerns from the Vietnam Railway Authority.
In a group letter sent to the Ministry of Transport, the owners of many cafes expressed the hope that local authorities would not eliminate the popular tourist spot.
According to these businessmen, they are mostly retired railway staff and were given apartments in the buildings along the railway between 1965 and 1974.
"Right after moving to live here, we saw many foreign tourists coming to our house's veranda waiting to watch the passing trains," the letter said. "They talked about it and shared the photos on many travel forums, making this place famous. We decided to open coffee shops to serve the rising number of visitors."
The residents said they really hoped that local authorities would have suitable measures to make this place a safe tourist attraction and at the same time ensure regular business activities for local people.
Hanoi police have placed barriers on the street since September 14 following an announcement on the temporary closure of all coffee shops in the area.
Speaking to Dantri/Dtinews the same day, vice chairman of Hoan Kiem District People's Committee, Nguyen Anh Quan, said that the first coffee shops became popular in 2017 and had attracted more tourists in recent years.
"There are now more than 30 coffee shops along the street," Quan said. "All of them are violating railway safety regulations. We won't exchange the safety of people for any financial benefit. We'll temporarily revoke their business licenses while waiting for the final conclusion from the Hanoi People's Committee and the Ministry of Transport."
The official added that they would study how to make the place a safe tourist spot with minimal disruption to the railway.
"We'll work with the transport ministry to include the spot on city tours based on the train schedule and the visitor demand," he said.
The two-kilometre train street starts from Le Duan, goes through Tran Phu and Cua Dong and ends at Phung Hung Street. It runs along part of the Hanoi-Dong Dang railway line.
Source: Dtinews