Calls for public workers basic wage to be increased from early next year
The latest hike in minimum wage occurred on July 1, 2019, with an increase from VND1.39 million to VND1.49 million.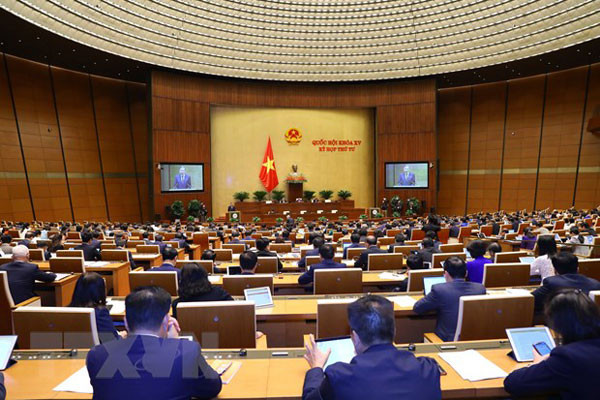 National Assembly (NA) deputies on Thursday morning called for an increase in basic wage from January 1, 2023, six months ahead of the Government's proposed schedule.
Under current regulations, the basic wage in Vietnam is the reference for calculating the total salary for civil servants by multiplying it with its corresponding coefficient.
The latest hike in basic wage occurred on July 1, 2019, with an increase from VND1.39 million to VND1.49 million. As a result, new graduates entering the state sector would be subject to salary level 1 with a coefficient of 2.34, equivalent to a monthly wage of VND3.48 million ($140).
On October 20, the first day of the fourth sitting of the 15th National Assembly, Finance Minister Ho Duc Phoc presented the Government's plan to allocate VND12.5 trillion (US$509 million) for wage reforms, including a 20.8 per cent increase in the basic wage of civil servants from VND1.49 million ($60) to VND1.8 million ($73.30) from July 1, 2023.
When discussing the socio-economic development and State budget this year and estimates for next year, deputies hailed the Government's wage increase schedule, saying that the issue received much attention from voters and people.
Deputy Nguyen Huy Thai from Bac Lieu Province said that during the COVID-19 pandemic, the State's budget could not afford a yearly increase in basic wage.
The increase in post-pandemic times was reasonable and suitable to the resilience of the country's economy and State budget, Huy said.
"However, to bring a greater joy and make up for the inflation, voters urged the NA and the Government to increase the basic wage right from the beginning of next year," Thai said.
"Increasing wages is a good sign but is not a fundamental solution to keeping employers in the public sector," Thai said.
"A fundamental solution is a wage policy reform, which would have been done last year if it had not been for the COVID-19 pandemic," Thai said.
Deputy Nguyen Thi Thuy from Bac Kan Province said that besides low salary, working pressure and the working environment were also major causes for professionals leaving the healthcare and education sectors.
"Public hospitals are currently overloaded. Doctors start working at 6 am at hospitals and receive hundreds of patients daily. It is very stressful," Thuy said.
"During the COVID-19 pandemic, medical workers at grassroots healthcare worked much harder but got a salary of just VND5 million per month," she added. "On top of that, they had to work without medical equipment and supply."
"Medical workers leaving the sector show no sign of stopping. So it's necessary to assess, find out causes and have fundamental solutions as the healthcare sector requires specialised policies to keep staff," she said.
Deputy Thai Thu Xuong from Hau Giang Province said that salaries for civil servants and State employees have not increased since 2019, and regional minimum wage for non-State employees increased slightly, much lower than the inflation rate and economic growth rate.
Wages should be increased as soon as possible, Xuong said, adding that measures to curb inflation were vital to avoid a situation in which people receive one more dong but have to spend two because of inflation.
At a group discussion on October 22, Minister of Home Affairs Pham Thi Thanh Tra said that it was reasonable to increase the basic wage from VND1.49 million to VND1.8 million per month as it would help create new motivation among civil servants and public employees.
It was reported that during last year and the first half of this year, about 39,552 civil servants left their jobs in education and healthcare.
Most of those who left the sector decided around the last half of 2021 and the first six months of this year, concentrating in big cities like HCM City, Hanoi, Dong Nai, Binh Duong, Ba Ria-Vung Tau, Long An and Can Tho – the localities which are home to major enterprises, industrial and processing zones.
Tra said that during the COVID-19 pandemic, civil servants, particularly healthcare workers, faced high work pressures as living costs rose while their salaries remained the same.
Source: Vietnam News