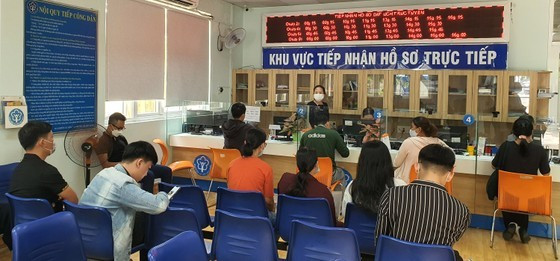 Many cash-trashed employees want to withdraw one-time social insurance
After the epidemic is controlled, the city made concerted efforts to recover production and business. However, many businesses had to stop operating and orders were canceled resulting in thousands of unemployed workers and cash-trashed employees who ought to live on unemployment insurance, and social insurance.
Therefore, social insurance agencies in Thu Duc City and districts have been crowded with laid-off workers to carry out procedures to withdraw one-time social insurance.
Queue overnight for social insurance premiums
At the end of working hours in the morning, many people were still waiting for procedures at Thu Duc City Social Security. Instruction boards for online appointment booking are placed in a convenient location for people to easily observe. At more than 11:15 a.m., a few people still came to do the procedures.
Mr. Nguyen Huu Chuong in Phuoc Long A Ward said that he has booked an appointment online; so, he doesn't have to wait in line. He revealed that his friends said that the procedure is not too complicated and it is very convenient.
In the past few days, dozens of people had already gathered in front of the office building of the Social Security Administration in Hoc Mon outlying district, waiting for it to open. 41-year-old Nguyen Thanh Nam in Ba Diem Commune moaned that he lost his job more than a year.
Although he spent a lot of time looking for a job, it was really hard. To earn money for supporting his family, he had no choice but to ride a motorbike taxi.
He disclosed that many of his friends also switched to riding a motorbike taxi. Because there are too many people driving tech-based motorbike taxis, his income is quite precarious.
He said he knew it is very disadvantageous for employees to withdraw social insurance once, but he and others have no other way because they need some money to live on.
The house is far away, so he decided to sleep in front of the insurance agency to get the order number because there are so many people withdrawing money like him.
People can book an appointment online
From the beginning of 2023 until now, the age of people withdrawing one-time social insurance is rejuvenating. Ms. Nguyen Thi Hong Hanh, Head of the HCMC Social Security's Communication Division, said that this is a normal thing as young people have many opportunities to work again, and when they re-sign the social insurance contract, the time to enjoy social insurance is not deducted but calculated continuously.
According to Ms. Hong Hanh, in the past time, the agency has tried to disseminate policies and laws on social insurance, unemployment insurance, health insurance including analysis so that employees know their rights when withdrawing one-time social insurance.
However, the production and business situation has gradually stabilized in the new situation, there are still many companies and enterprises forced to suspend production without orders.
More employees and workers were losing their jobs, so they were going to social insurance agencies to complete procedures for one-time withdrawal of social insurance premiums.
In addition to taking the order number directly, from February 2023, social insurance agencies have organized online appointments.
According to Vietnam Social Security's statistics, in the period 2016-2021, about 4.6 million people received one-time social insurance.
Approximately 860,000 people wanted to withdraw one-time social insurance premiums in 2020 and it was 960,000 people and 895,000 people in 2021 and in 2022 respectively.
The one-time withdrawal of social insurance is a temporary solution but will leave long-term consequences for employees.
In addition, this situation will make Vietnam unable to achieve the goal of universal social insurance and affect social security policy.
Source: SGGP