Chamber singer to debut concert after six year of practice

After winning second prize at the prestigious national singing contest Sao Mai Điểm Hẹn (Morning Star – Rendezvous) in 2013, singer Pham Thuy Dung will have her debut concert on September 29.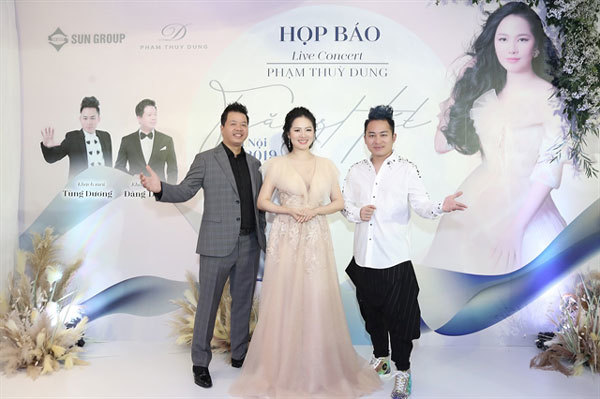 Singer Pham Thuy Dung (centre) with guest artists, chamber singer Dang Duong (left) and divo Tung Duong during a press conference in Hanoi. — Photo courtesy of the organiser
Although Dung bagged the prize thanks to her folk-inspired songs, the singer will perform chamber songs accompanied by an orchestra.
According to the singer, the concert, which entitled Trăng Hát or Moon, is the result of her "tireless learning and training over the past six years".
"After spending a period of time to accumulate knowledge on classical music, the concert is also to mark my maturity of both my voice and myself," Dung said during a recent press conference ahead of her show in Hanoi.
Despite feeling a little nervous before the show, Dung said this performance it is a gift she has wanted to give to the audience for many years.
"I have spent quite a lot of money for this first concert without thinking about the benefits," she said.
"I am aware of the possibility of losing money however the financial issues can't hold me back. Instead, I think 'keep walking and you will reach the finishing point.'
"For a singer, the biggest fear is failing to reach the heart of the audience, or performing and just being quickly forgotten."
At the press conference, the singer also showed her deep gratitude towards her vocal music teacher Ho Mo La, who has discovered and trained many recognised semi-classical and chamber singers in Vietnam such as Ro Cham Pheng, To Uyen, Ha Thuy, and Anh Tho.
"With her distinct experience, La has seen through my hidden ability, thus she has encouraged me to follow another music genre – it's classical and chamber music," Dung said.
La, 88, gave her beloved student Dung high praise as a very hardworking and persevering woman.
"She doesn't mind that I'm a demanding, fastidious and faultfinding old woman, and always satisfy all my requirements in practice without any complaints," La said.
"Her intensive hard work has been repaid by her gorgeous and beautiful voice,"
The Moon concert, featuring more than 20 songs, will be divided into three parts.
While the first one is dedicated to Western classical music, the second one will be devoted to Vietnamese songs. Fusion music, which combines classical and other genres, including Vietnamese folk tunes will be presented during the third part.
The soprano voice of Dung will be presented through several famous songs such as Ave Maria by Charles Gounod, Solveig's Song by Edward Grieg, and Smile for Me by Johann Strauss.
Alongside the song Tôi Nhìn Theo Cánh Chim Bay (Following the Birds' Wings with My Eyes) that she earlier presented in her same name music video released in mid-June, the singer will also perform songs from her album Moon which is scheduled to release in the coming months.
Dung will be accompanied by the 65-member Sun Symphony Orchestra (SSO) which is led by the talented French conductor Olivier Ochanine.
Diva Tung Duong and famous chamber singer Dang Duong will be guest artists, who together with singer Dung, will offer a special and fresh performance during the concert.
Talking about the Moon, symphony composer Tran Manh Hung, who is also the concert's music director said: "The Moon is expected to be a concert worth-listening to as it will also feature an international-standard orchestra, the Sun Symphony Orchestra. It's lucky for any artist who has a chance to work with them."
Hung, who arranged all songs of the concert's repertoire, also said that the contrast performing style between two guest artists Tung Duong and Dang Duong will add more 'colours' to the concert.
To prepare for the concert, during two months every week Dung had to fly to HCM City, where composer Hung current lives and works, to practice with him. The concert Moon will take place at Ha Noi Opera House.
VNS