VietNamNet Bridge - Educators have expressed deep concern about children's books with nonsensical content which are sold at many shops in the country.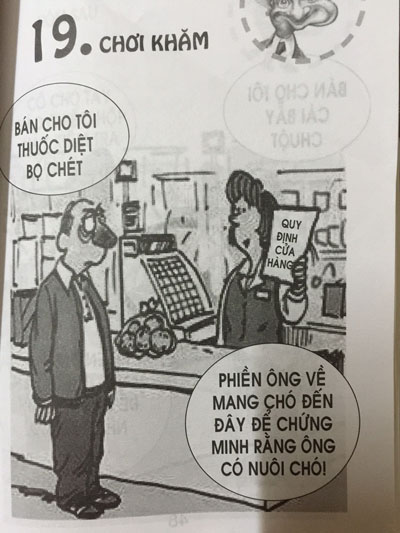 Vietnamese parents like to buy books that teach life skills and are entertaining for their kids, because they believe modern children are stuffed with too much academic knowledge. And they have many choices as numerous such books have hit the market.
Mai Lan, a parent in Thanh Xuan district in Hanoi, said she panicked when reading 'Do vui can nao' (brainstorming quiz) from the Culture & Information Publishing House.
A question was raised in the book: "Why did a man die of drowning even though he tried to commit suicide by jumping off a building?" And the suggested answer was: "Because the street was inundated."
Another question was: "How can a mother make a formula for her infant with just one toe?" The answer is "Waking up her husband with the toe, so that the husband gets up and does this."
"These are quite nonsensical questions and answers," she said. "I cannot understand why such rubbish books can go through censoring agencies and hit the market."
Lan also pointed out a lot of other questions and answers which provide 'anti-scientific' and 'anti-educational' solutions.
"How do you measure the height of a big tree without having to climb into the tree?" The book 'advised' children to chop down the tree for easy measuring.
"Why is breast milk the best for infants? "Because breast milk does not go up in price."
Hoang Thanh Hoa, a parent in Cau Giay district, said she was very disappointed about a book from the Fine Arts Publishing House.
"Whose teeth are the whitest?" "The black people's" was the answer.
"It is a waste of money to buy such rubbish books," she complained. "However, wasting money is not the biggest problem. More importantly, the lessons from the books will spoil children."
"It is management agencies which have to take responsibility for the books," she said, adding that no relevant agencies had expressed their opinion about the cases.
Dr. Nguyen Tung Lam, a renowned educator in Hanoi, commented that children were surrounded by numerous rubbish books.
"It is necessary to eliminate the books from the market and to establish strict censorship at publishing houses to be sure that such books cannot hit the market," he said.
Dr. Vu Thu Huong, a lecturer at the Hanoi University of Education, said the situation was "worrying".
The books with nonsensical content would spoil children, while parents nowadays are too busy to spend time to choose the right things for their children to read she said.
Mai Chi