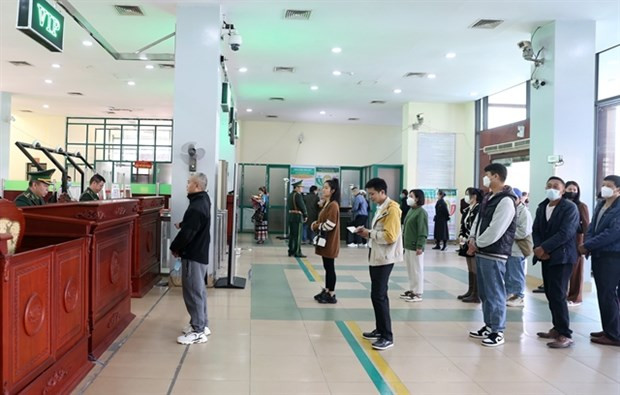 Travellers wait for immigration procedures at Lao Cai international border gate. (Photo: VNA)
The ministry confirmed on February 16 that it had sent a diplomatic note to China on February 9 proposing travel agencies be allowed to organise outbound tours to Vietnam.
According to the diplomatic note, tourism cooperation is a highlight in the bilateral collaboration between the two countries.
Chinese tourists made up the majority of foreign tourists entering Vietnam before the COVID-19 pandemic broke out, and many Vietnamese tourists also travelled north.
According to the General Statistics Office, 5.8 million visitors in 2019 to Vietnam were Chinese, accounting for 30% of international tourists.
After China scaled back its "zero-COVID" policy, many cooperation activities between the two countries gradually resumed.
China started allowing its travel agencies to organise outbound tours to 20 selected countries on February 6. While this list does not include Vietnam, other Southeast Asian nations like Thailand, Malaysia and Singapore are included.
Many tourism businesses in Vietnam have expressed disappointment after three years of waiting, as China is one of the largest tourism markets.
Resuming tours to Vietnam will create favourable conditions for both countries to resume and develop tourism.
The ministry also discussed tourism cooperation with the Chinese ambassador to Vietnam, including resuming travel tours.
The ambassador shared that China highly values friendship between the two countries. The embassy has prepared to welcome Chinese tourists back to Vietnam.
The International Cooperation Department is also actively working with China to put Vietnam on the list of countries piloting group tourism since this country reopened the border on January 8.
The Department also expressed the expectation to travel of visitors and the tourism agencies.
Ngo Lan Phuong, head of Kim Lien Travel, told Vietnam News Agency that they are ready to welcome back Chinese visitors.
Phuong said even if the numbers don't reach the same heights as in 2019, just half the number of Chinese tourists would be good for the travel agencies./. VNA