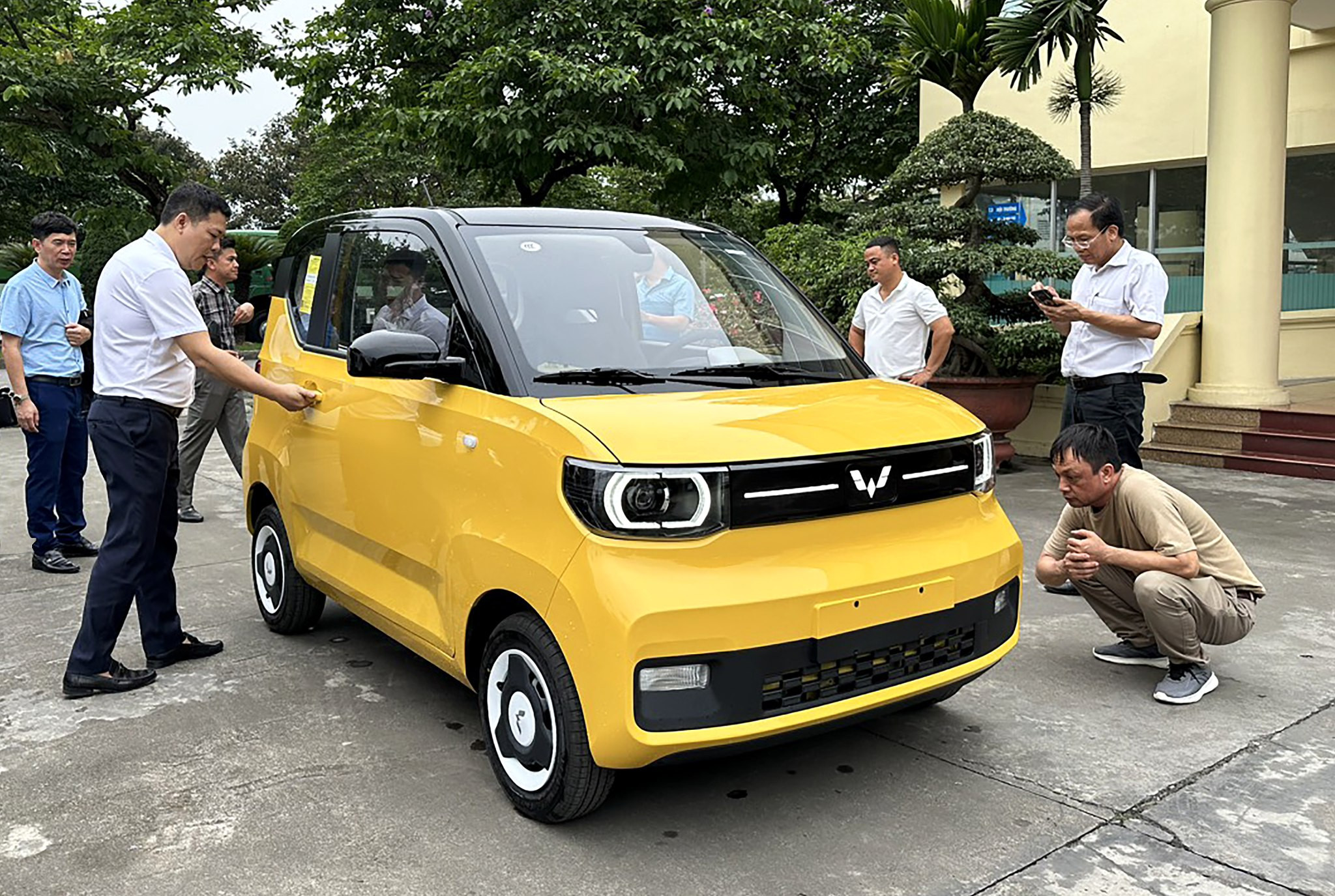 Wuling HongGuang Mini EV was officially launched in the Vietnamese market on June 29, but it had already become the topic of discussion a week before, especially as the selling price of the model was expected to be high, up to VND265 million.
The presence of Wuling has officially opened a new market segment in Vietnam – the microcar.
However, the segment will be crowded soon as more models will be introduced in the time to come. Vietnamese have been reminded of the wave of cheap Chinese motorbikes flooding the Vietnamese market in the 2000s. A new wave of Chinese microcars may appear.
In fact, microcars entered the Vietnamese market in 2014-2015 as unofficial imports. At that time, the Dolphin model, which could carry two persons, appeared in Hanoi with the selling price of only VND70 million.
The car looked like a toy, but it was equipped like a real car, including double headlights, four tubeless wheels, speedometer, 2-way air conditioner, and FM/CD/MP3 player. The car could go 60 kilometers on each battery charge. However, it could not be officially registered and could only be used within farms or closed areas.
After Dolphin, other electric models with no registration also found their way to enter Vietnam. At present, there are still ads about the sale of electric cars at prices equal to the price of a motorbike - for example, the Honda SH150i, VND90-100 million. The model still can find buyers.
In February 2023, the Chinese distributor of Haima brand also joined the Vietnamese market with the MPV model 7X-E. The price has not been made public. However, car dealers said it is not a low-cost model as the car sells at VND900 million in China.
In December 2022, the Honri Boma electric model was registered for industrial design protection in Vietnam, a move which showed a methodical plan to conquer the Vietnamese market.
Other Chinese brands such as MG and Chery are planning to sell electric products in Vietnam with a wide range of products from low-cost to high-end products, while a private distributor has sold Hongqi E-HS9 since early 2022.
Predictions vary about the sale of Wuling in Vietnam. However, analysts said with the selling price of VND300 million, the models are not attractive.
To Quoc Dat from Ha Dong district in Hanoi said if the Chinese car sells at VND250-300 million, he would rather choose a KIA Morning, Hyundai Grand i10 or VinFast Fadil 2018 or 2019 series, because the brands are better than the Chinese one.
The other problem of the Chinese model is that it only can run within the city and cannot go far or on highways. It would be difficult to persuade families which still don't have a car to buy Wuling because of the cost.
Wuling is also not a good choice for those who already have cars. Luu Trong Hieu in Hanoi said he wants to buy an electric car for transport, but also because he wants to discover new smart technology.
"I have a KIA Sorento and I have just received a VinFast e34 after one year of waiting. I buy electric cars because I want to protect the environment, and I like the smart technology, connectivity and the capability of easily upgrading the software. VinFast can satisfy the requirement," he said.
"For that reason, buying an electric car just because it is a car, while it doesn't have any smart features or smart technology is not my option," he said.
Nguyen Xuan Dat, a used car dealer on Tran Vy Street in Hanoi, said Chinese cars won't be able to persuade Vietnamese customers if they are not cheap.
"Microcars like Wuling don't have anything except an electric engine and a cover which can shelter from the rain and sun," he said.
Hoang Hiep