The Ministry of Finance (MoF) is expecting that the average oil price will hover at around $70 per barrel this year, and if this comes true and if about eight million tonnes are exploited domestically, Vietnam will earn about $1.83 billion from crude oil exports.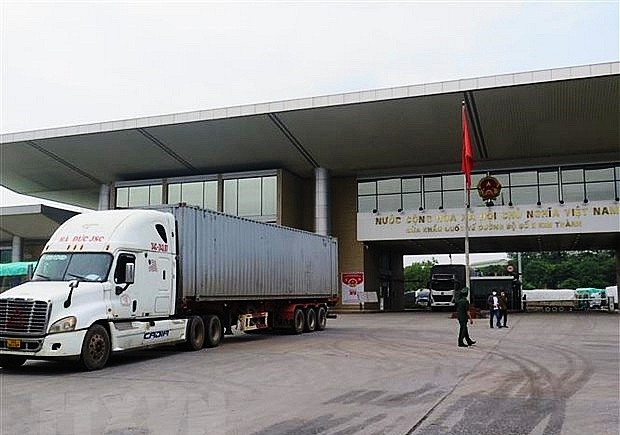 A container truck carrying Vietnamese goods to China via the Kim Thanh II international border gate in Lao Cai province. (Photo: VNA)
However, according to Swiss-based multinational Vitol Group, oil prices could reach a $90-100 per barrel range in the second half of this year as demand is set to reach record levels amid constrained supply.
One of the key drivers of a high hike in oil prices this year is China's economic recovery. According to the World Bank, nearly half of the growth in oil consumption in 2023 is expected to come from China. Goldman Sachs has estimated that China's reopening will add one million barrels per day to global demand (or about 1 per cent of world consumption), putting an extra $5 a barrel to oil prices.
"In the context that the world economy's growth is forecasted to be slow down, while a number of major economies are facing with a danger of depression and a very high hike in prices of oil and input materials is creating big pressure on global inflation," the MoF said.
"Besides that, the political situation in the region and the wider world has become increasingly complicated, coupled with climate change, natural disasters, and epidemics. All of these challenges have and will continue increasing risks and difficulties for the Vietnamese economy in 2023 and the country's budget and inflation situations as well."
According to the World Bank, global inflation is expected to fall from 7.6 per cent in 2022 to 5.2 per cent in 2023 and 3.2 per cent in 2024, still above the 2015-2019 average of 2.3 per cent. The deceleration in headline inflation this year is envisaged to be primarily driven by moderating prices for many commodities; furthermore, core inflation is expected to slow substantially next year but remain above pre-pandemic levels.
Vietnam is a big importer of fuel. Statistics from the Ministry of Trade showed that the country's oil and petrol imports almost doubled to $9 billion in 2022 from $4.9 billion in 2021. Volumes were 28 per cent up to 8.9 million tonnes. Diesel accounted for 54 per cent of the volume, petrol for 19 per cent and jet fuel for 16 per cent.
The General Statistics Office (GSO) reported that in the first two months of 2023, Vietnam's consumer price index (CPI) increased 4.6 per cent on-year. "The domestic prices of petrol and gas have risen following a big hike in world fuel prices, and this is a key reason for the CPI in February to climb 4.31 per cent on-year," said GSO general director Nguyen Thi Huong.
In the 2-month CPI hike, the price of the transport group, one of the 11 item groups used to measure CPI in Vietnam, saw the biggest ascension – at 2.11 per cent on-year due to a 2-increase 5.66 per cent climb in the prices of petrol and oil from in February. This has caused a 0.2 per cent rise in CPI.
The transport price hike has also increased public transport services by 2.58 per cent, with a 6.63 per cent rise by air, and 32.92 per cent by train.
Meanwhile, the prices of the housing and building material group have also expanded 1.81 per cent in the first two months due to a very high on-year increase of 14.56 per cent in February's gas price, following a global gas on-year increase of $190, to $790 per tonne. In addition, the housing electricity price has risen 1.12 per cent in February.
Anticipating risks, the National Assembly set a CPI growth target of about 4.5 per cent for 2023. "In 2023, it is quite necessary to keep close watch over the developments of the domestic market, and the global and regional markets, prices, and inflation in order to timely detect risks and advance suitable measures," read the NA's Resolution on the Plan for Socioeconomic Development in 2023 adopted in November last year.
"There must be synchronous and flexible in monitoring, with the close combination between the fiscal and monetary policies and other macro policies so as to control inflation, contributing to macroeconomic stability and supporting economic recovery," the resolution stated. "It is also a must to strengthen the financial and banking system' resilience and stability, while also taking the initiative in actively applying such tools as interest rate and exchange rate in a manner appropriate for the country's socioeconomic situation."
However, analysts at the Economist Intelligence Unit commented, "We forecast that consumer price inflation will accelerate to an annual average of 3.2 per cent in 2023 but will record a declining trend in the second half of the year to about 2 per cent by end-2023. The softening of consumer prices will be driven by a declining trend in global oil prices next year."
Global analysts FocusEconomics is also expecting Vietnam's inflation rate to average 3.9 per cent in 2023, and 3.5 per cent in 2024.
Source: VIR