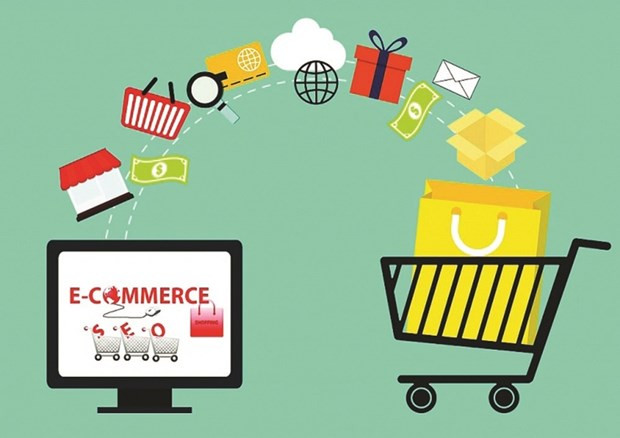 Statistics from the Vietnam E-commerce Association (VECOM) show that in 2021, Vietnam's retail e-commerce market size reached 13.5-13.7 billion USD. In 2022, the figure increased to 16.4 billion USD and is forecasted to reach about 38 - 39 billion USD by 2025.
According to experts, the buying trend of consumers has changed rapidly in the past three years with all items due to the COVID-19 pandemic, from consumer goods, food, drinks, fashion, and cosmetics.
However, according to preliminary statistics from the Ministry of Industry and Trade (MoIT), authorities receive about 1,500 complaints via hotlines and written documents each year related to online shopping.
Tran Huu Linh, Director General of the MOIT's General Department of Market Management, said that last year, the market management force nationwide inspected 774 cases relating to e-commerce, detected 439 violations, and collected a total fine of nearly 5.9 billion VND (over 250,000 USD).
"This is still quite a modest number compared to reality," he said.

Nguyen Thi Minh Huyen, Deputy Director of the MOIT's E-Commerce and Digital Economy Authority, said that violations that exist in conventional trade all appear in e-commerce. Moreover, it's easier to conduct violations on the internet while it's much more difficult to detect and handle them because sellers don't set up physical warehouses/stores, or goods are stored in many places and they only accept online orders.
Moreover, online stores are easily created and closed in a short time. The product information posted online may be real, but the product delivered to buyers can be fake, she said.
Nguyen Duc Le, Deputy Director of the Operations Department, General Department of Market Management, said that acts of trading counterfeit smuggled goods, those infringing intellectual property rights, and goods of unknown origin are increasingly sophisticated and occur more often in the online environment.

E-commerce activities are based on technology infrastructure, so during the inspection, violators can hide and delete pieces of evidence quickly, making it difficult for law enforcement force.

In addition, for transactions on social networks, it is very difficult to prove them commercial transactions as sellers and buyers use personal accounts to contact each other and pay online too.

Nguyen Huu Tuan, Head of the Department of E-commerce Management under MOIT's E-Commerce and Digital Economy Authority, said that in many cases, consumers know that the goods are fake or of unknown origin, but still buy or do not denounce them. Meanwhile, many businesses have not paid attention to anti-counterfeiting and brand protection.
Deputy Director of the MOIT's E-Commerce and Digital Economy Authority Huyen said that to strengthen the control over online counterfeiting goods and promote the development of e-commerce, it is necessary to review and perfect relevant legal framework and increase public legal understanding, especially for traders, organisations and individuals.

It's also a must to increase the responsibility of e-commerce platforms and social networking sites in screening, preventing, and preventing accounts that do not provide sufficient information, and accounts with signs of trading infringing goods.

Moreover, the agency has planned to offer training for businesses and owners of protected trademarks to create a favourable mechanism for complaint settlement, verifying infringing goods as well as strengthening coordination among relevant agencies./. VNA