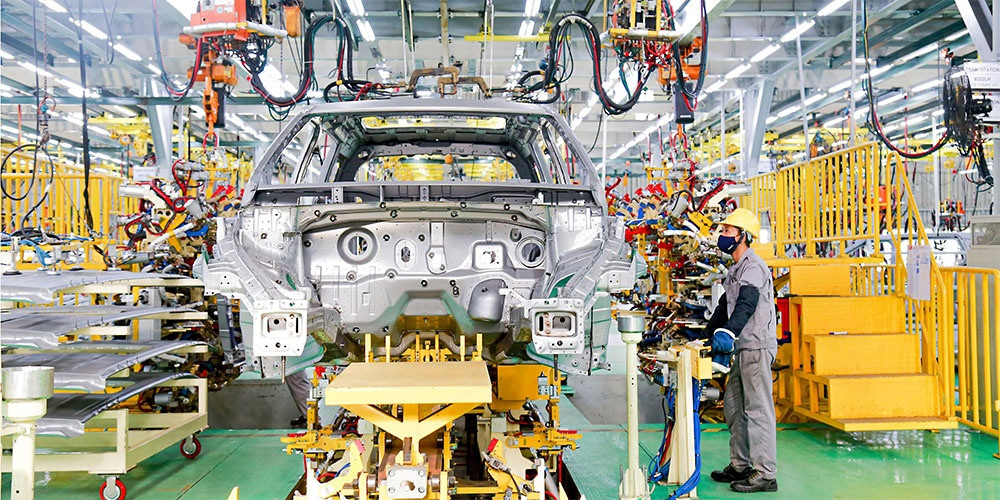 Contributions of foreign direct investment cannot be denied, illustration photo
In recent years, there has been a viewpoint that foreign direct investment (FDI) is a foreign element rather than an organic part of Vietnam's economy. It is also sometimes believed that the domestic economy is weak due to the low spillover effects of FDI without a clear recognition of the need to promote the development of the domestic economy.
However, if we assume something that did not happen in reality – that Vietnam never did have access to FDI – then we would see a vastly different nation today.
The increasing proportion of FDI indicates that the economic growth rate of this area is usually higher than that of the domestic economy. Without, it would take many more years for Vietnam to reach the GDP scale of 2022 with $409 billion and average GDP per capita of $4,110, and with the economic growth rate at over 7 per cent annually, as seen in 1991-1997 and 2002-2007.
In 2022, the realised investment capital at current prices reached $140 billion, up 11.2 per cent over the previous year. Of which, FIEs accounted for 16.2 per cent and increased by 13.9 per cent. The share of FDI in total social investment tended to decrease gradually from the peak of 30.4 per cent in 1995 to the bottom of 14.2 per cent in 2004 and then suddenly increased to 24.3 per cent in 2007. It peaked at 30.9 per cent in 2008 and then gradually decreased to around 16 per cent in the past two years.
The investment efficiency of FDI has improved significantly in the past decade, when its share in GDP was much higher than that of total social investment. In the period 1988-2021, there was more than $251 billion of realised FDI out of a total of nearly $524 billion of registered capital in over 38,300 projects.
Realised FDI capital also has experienced many ups and downs, with periods of capital at a double-digit annual growth rate and even nearly doubling in 2007, along with periods of decline in 2009-2012 and 2020-2022.
However, such capital has made an important contribution to investment resources in Vietnam, not only in terms of quantity but also in quality.
In 2022, the export turnover of goods reached $371.85 billion, up 10.6 per cent over the previous year. For the past 20 years, FIEs have officially contributed more than half of Vietnam's total merchandise exports and grew to more than two-thirds in 2013, before reaching approximately three-quarters last year.
It can be asserted that without FDI, Vietnam could not have become the export powerhouse it is now, with the growth rate of commodity export turnover continuously at double digits and commodity exports accounting for 90.9 per cent of GDP in 2022.
Vietnam has become an increasingly important global commodity production base. The openness of Vietnam's economy to 179 per cent of GDP in 2022 is led by FDI, when it also accounted for 65 per cent of the total import turnover of goods in the same year. More importantly, without it, it would be difficult for Vietnam to get out of a persistent trade deficit and move to a trade surplus.
If it is said that by attracting FDI we can improve the capital balance, it is thanks to the export activities of FIEs Vietnam has improved the trade balance markedly, thereby improving the current account and the overall balance of payments. While the domestic economic sector is still deep in a state of trade deficit with a record of $30.7 billion in 2022, FIEs continuously have a trade surplus.
The vast majority of basic indicators of FIEs maintain a continuous uptrend. As of the end of 2020, the country boasted over 22,200 FIEs, of which just over 19,200 were fully-fledged FIEs and around 3,000 were joint ventures with other countries.
Although accounting for only 3.25 per cent of the total number of active enterprises, FIEs create just over one-third of total jobs in the enterprise sector with more than five million direct jobs, with a higher average income of $450 per person monthly, and possibly millions of indirect jobs related to the sector.
In particular, FIEs account for more than half of enterprises with a labour size of between 1,000 and 5,000, and nearly two-thirds of enterprises with a labour size of over 5,000. The total income of employees in FIEs accounts for 38.3 per cent of the total income of employees in enterprises in our country.
Besides that, FIEs also held 19.16 per cent of the total production and business capital of enterprises, 23 per cent of the value of fixed assets and long-term financial investments, and 29.8 per cent of net production and business revenue. They make up 22.8 per cent of enterprises with capital scale of over $21.2 million, and up to 48.5 per cent of total profit before tax of enterprises with the highest return on equity of 12.8 per cent (more than twice the overall average).
Thus, without FDI, millions of workers would not have access to jobs with high incomes. Moreover, they would not be able to work in a business environment with medium- to high-tech equipment, good production and business efficiency, and a healthy financial situation.
Domestic revenue from FIEs in 2021 reached more than $9.2 billion, accounting for 13.85 per cent of total domestic revenue, not including revenue from crude oil. Balanced revenue from import and export of nearly $9.19 billion was contributed by FIEs in whole or in large part.
If only domestic revenue is taken into account, revenue from FIEs in 2021 was more than triple than in 2010, with the proportion increasing steadily over the years and exceeding 10 per cent in 2008. The state budget in 2020 showed that FIEs contributed more than $8.9 billion, the vast majority of which are tax payments.
Especially, VAT collected from domestic production and business goods was $2.49 billion, accounting for 23.3 per cent of total revenue.
Source: VIR