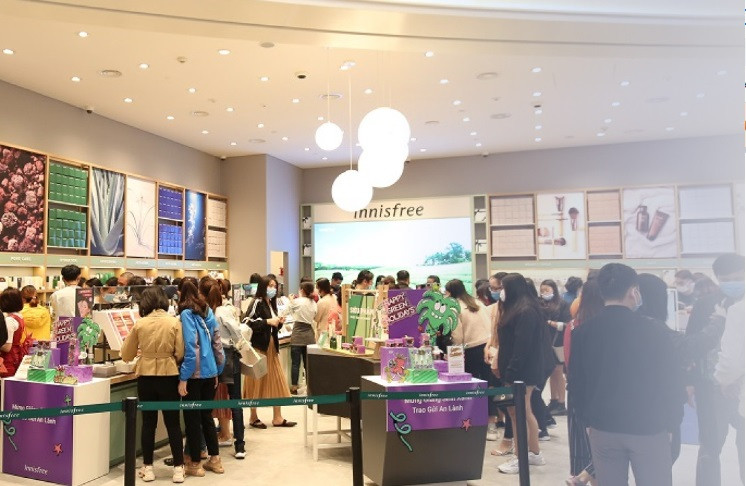 In early 2022, Sephora, a leading cosmetics retail system, after 5 months of trial operation, officially opened its e-commerce channel in Vietnam. The presence of Sephora has demonstrated the attractiveness of the Vietnamese market.
Japan's cosmetics retailer Matsumoto Kiyoshi is also present in Vietnam. This is the largest pharmaceutical and cosmetic retailer in Japan in terms of revenue and number of points of sale, with more than 1,700 stores and revenue in fiscal year 2019 of nearly $5.7 billion. Vietnam is the third foreign market in Matsumoto Kiyoshi's expansion strategy, after Thailand and Taiwan.
Earlier, Watsons and Guardian opened in Vietnam to meet the increasing demand for cosmetics and health care products of Vietnamese people, especially women.
Many leading cosmetic brands in Europe and Asia, such as the UK, France, Korea, and Japan, are seeking opportunities to enter and expand their business operations in Vietnam.
Research shows that Vietnamese consumers are increasingly paying attention to aesthetics and health care. This is also an area that has not been affected by the pandemic or the ups and downs of the market.
According to Mintel, a global market research company, the Vietnamese cosmetic market is valued at about $2.3 billion. Skin care products are the most popular, with more than 60% of consumers using them every day.
Statista's research shows that the growth of cosmetic stores in Vietnam increased by 40%, from 87 in 2021 to 124 this year. Most of the stores are located in the two major economic centers, Hanoi and Ho Chi Minh City.
Hoang Nguyet Minh, Director of Commercial Leasing, Savills Vietnam, said that in 2019, Vietnam's healthcare spending reached 6.6% of GDP, which is expected to grow 10.7% by 2022.
Vietnamese are paying more attention to skincare, even men.
According to Nielsen, per capita cosmetic spending in Vietnam is only $4, compared to Thailand's $20, showing great potential.
Challenges
However, it is difficult to win over the Vietnamese market. The retail chain model of health and beauty care products is not new, but it is not yet hugely popular in Vietnam.
Once entering the local market, these brands often make large investments in the first store, which is usually located in a prime location, experts said. The stores opened later are usually based inside large shopping centers with a lower investment.
A representative of a foreign cosmetics retail chain in Vietnam once said that in Vietnam, retailers need time to win consumer trust, especially with products related to health and beauty care.
Besides developing chains of stores, cosmetic brands are starting online businesses. They see flagship stores as a channel to attract customers, and e-commerce as a platform to supplement revenue.
Regarding future development, experts said that the explosion of the young middle class who are interested in health is a factor attracting cosmetic businesses to Vietnam.
Duy Khanh