COVID-19 makes a difference in digital transformation in health care
With Vietnam being considered one of the world's safe nations it is currently doing well in terms of public health in relating to COVID-19 prevention and treatment activities in three phases, before, during, and after the pandemic.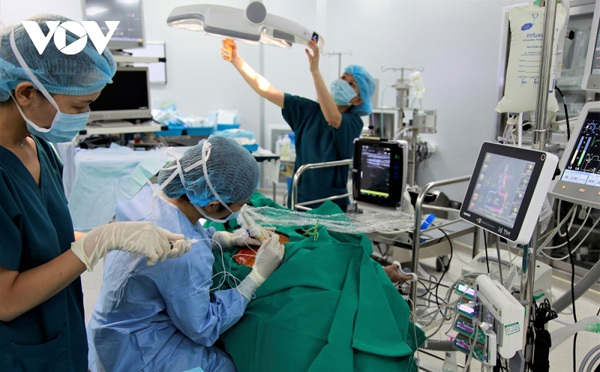 Smart health care is inevitable.
Never before has the digital transformation taking place in the health sector been as strong as during the COVID-19 pandemic. In only a short space of time a series of technology applications have been rapidly and extensively deployed as a means of aiding the health sector, such as a community health declaration (NCOVI), COVID-19 tracing (Bluezone), and social insurance payments. In addition, a website and application of Vietnam Health, along with an online public service portal of the health sector, a medical examination, and treatment through the internet system has also been launched.
According to Nguyen Truong Nam, deputy director of the Department of Information Technology under the Ministry of Health, the use of digital platforms is of particular importance in the fight against the COVID-19 pandemic and can be considered a solution that helps to perform contactless screening of infected individuals. Relevant technology also assists hospitals in quickly establishing a means of medical consultation through providing access to an on-site team of information technology (IT) specialists that are capable of operating and maintaining the operational system.
Furthermore, the benefits of digital platforms also allows the health sector to simultaneously deploy a remote health care system across thousands of hospitals and medical facilities without the need to develop it from scratch. This is regarded as the most efficient way of accelerating the digital transformation process in the medical field, thereby improving hospital expertise.
The local health sector is also developing a universal health data system, through which each citizen will be given a unique medical identification code, a type of digital medical record, that will make it simpler for people to receive medical treatment in any medical facility.
Despite these benefits, ensuring the security of personal medical data remains a significant barrier for both enterprises and management agencies through which they can implement smart health care, Nam said. 
Medical digitisation still faces many shortcomings
Nam admitted that health is a specific field that has a huge data warehouse, with each citizen representing a data cell in the general medical database. As a result, ensuring the security of a shared data warehouse that is used by the country's entire health system is not an easy task, especially when there is no clear legal corridor regarding database sharing.
Dang Thanh Hung, head of the IT Department from Children's Hospital 1 in Ho Chi Minh City, shared that on average, each day will see the hospital provide an examination and medical treatment to between 8,000 to 10,000 patients. In addition, the hospital is forced to outsource data storage and digitisation due to the large amount of medical data about patients, thereby causing plenty of difficulties for technicians to deal with.
Moreover, an unreasonable time management and medical examination schedule could potentially lead to overload in terms of medical treatment and examinations, leading to unnecessary mistakes.
This comes as the unsystematic management of patient records without connection between central and local hospitals has also resulted in a waste of medical examination results.
Le Duc Nguyen, director of Med-On Digital Medical Technology and Service Joint Stock Company, underscored that technological applications represent the best way to resolve all of the health sector's challenges.
In order to accelerate digital transformation, it remains necessary to further strengthen the role of the "conductor" that is the Ministry of Health, he emphasized.
The vision of digital transformation in the health sector in the lead up to 2030 is to apply digital technology in the majority of activities and services, with a specific focus on forming a smart health background that covers three main factors, including smart disease prevention, smart medical examinations, and smart health management.  VOV

Minister and Chairman of the Government Office Mai Tien Dung talks to the press about the role of digital transformation in the health sector.

Local COVID-19 vaccine Nanocovax is anticipated to be put into use by the middle of 2021 following the conclusion of the evaluation results of the ongoing human trials and the facilitation of administrative procedures,