Da Nang's special pork rolls
Rice paper rolls with pork, or banh trang cuon thit heo in Vietnamese, is a tasty dish popular throughout Vietnam. This "version" in Danang seems to be a good choice for diners who want to have something new in their daily meal.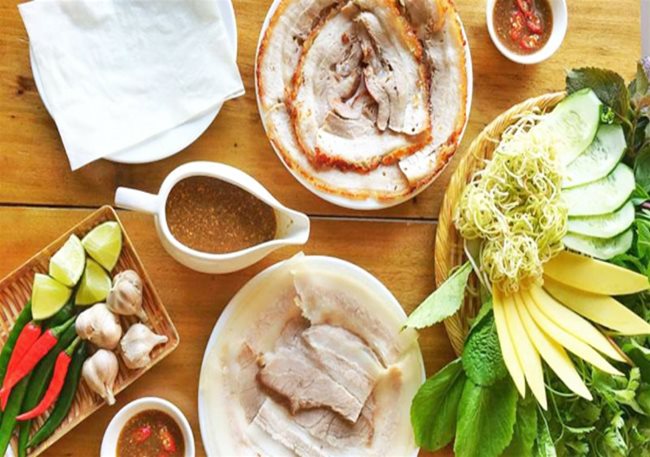 A combo of banh trang cuon thit heo, including slices of pork, herbs and dipped sauce
In each region, rice paper rolls with pork may have a different form. Locals in the southern region add shrimps, garlic chives and sprouts to the roll aside from pork. Meanwhile, northerners love to have eggs, cha lua (Vietnamese sausage) and shrimps. But the original is the simplest consisting of rice papers, slices of pork and herbs. 
As its name may suggest, the key ingredients of the dish are rice paper and pork. The rice paper must not be too thick and thin. The slices of pork must include skin and fat. The pork should be cleaned with salt before being boiled. Then it is soaked in cold water to keep its sweetness, which makes the slices of pork chewy later.
Dipping sauce is the soul of the dish. The tastier the dipping sauce the more delicious the dish becomes. Rice paper rolls with pork can be served with either sweet or sour fish sauce. However, it will be better if the dish is served with mam nem—a sauce made from fermented fish. Add garlic, chili, lemongrass and pineapple that are finely minced and you'll be ready. Diners can now feel all the flavors in the first bite of rolls that are dipped in mam nem.
In Saigon, you can find the dish in Tu Hoa Eatery in Binh Thanh Dist., Ganh Mam Nem in Phu Nhuan Dist., Mam 148 in District 1, to name but a few. SGT
Lam Nhu

A 28-year-old architecture graduate in Hanoi has been crafting Vietnamese dishes barely larger than a coin. 

Visitors to Kien Giang often leave with a great impression of the locality due to its fabulous culture, the friendliness of local people, its shopping options, and range of street food.