Delicate chicken pho in Hanoi
Of the several versions available so far of pho, the Vietnamese rice noodle soup, chicken soup is plausibly the most "delicate." 
In Hanoi, this version of pho is not only considered a refined dish but also represents some cultural traits of the capital city that prides in its delicacy.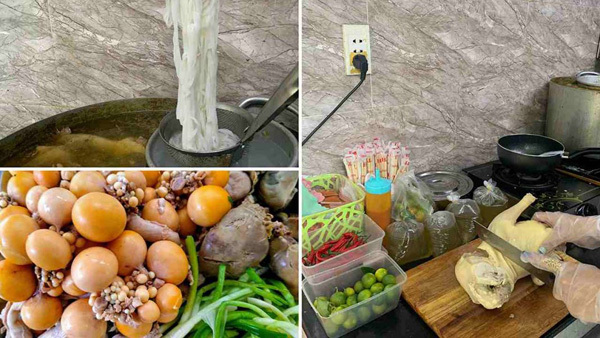 The delicious ingredients that make a delectable bowl of chicken pho.
Many Vietnamese believe that pho, their "national dish," originates from a French beef plate. Others think pho stems from a local beef salad previously popular at the wharves along the banks of the Red River running across the city.
When the new version, chicken pho, appeared, it silently penetrated the culinary life of Hanoians in particular and northerners in general, and has since taken up a position of a dish as much favored as the beef predecessor.
The late famous writer Vu Bang once wrote, "In a slightly chilly autumn morning where there is nothing urgent, a bowl of chicken soup on the table and the accompanying coriander leaves and green onions would prompt [us] to think that chicken pho has its own unique taste, which is a world apart from beef noodle soup. The first to notice is chicken pho is more delicate than the beef version."
With Vu Bang's statement in mind, we started to find a shop of palatable chicken pho in HCMC, where we could watch the preparation of the famous dish.
The cook told us that to have a flavorsome bowl of chicken pho, the meat to be used must be excellent and fresh. The chicken is boiled in a way so that the skin has to retain its yellow color. The noodles made from rice powder must also be treated in the right way to obtain the wanted chewiness.
The meat and the noodles are often said to be central to chicken pho. However, the broth is also an integral part of the soup. Normally, chicken bones must be used, which are also the secret. The broth prepared from chicken bones is much more refined while much less fatty than that of the beef version.
A bowl of chicken rice noodle soup is expected to be accompanied by slices of lemon leaves. Different from the beef noodle soup, aside from chicken, a bowl of chicken pho also has young chicken eggs removed from hens.
Now, squeeze a slice of lemon to let its juice flow into the bowl. Use the chopsticks to take in the white noodles, then a piece of chicken and a young egg. Next, get a spoonful of the broth and you'll know why chicken pho is favored by many Vietnamese.
In HCMC, chicken pho is a rather popular dish, and shops selling it can be found easily.
To satisfy the demand of connoisseurs of chicken pho, some restaurants have added other parts of chicken to their menus. To me, whatever is used, the delicacy of chicken pho in comparison with its beef version is indisputable.
On my next trip to Hanoi, I will try chicken pho to enjoy the original taste of this dish. You should try it, too!
Source: SGT

Chicken pho is among signature dishes of Vietnamese people in the North. It is a hearty, simple and healthy meal that is full of vibrant flavours.

For many Vietnamese, Pho is much more than just noodle soup. From street vendors to luxurious restaurants, Pho has become the national dish of Vietnam.