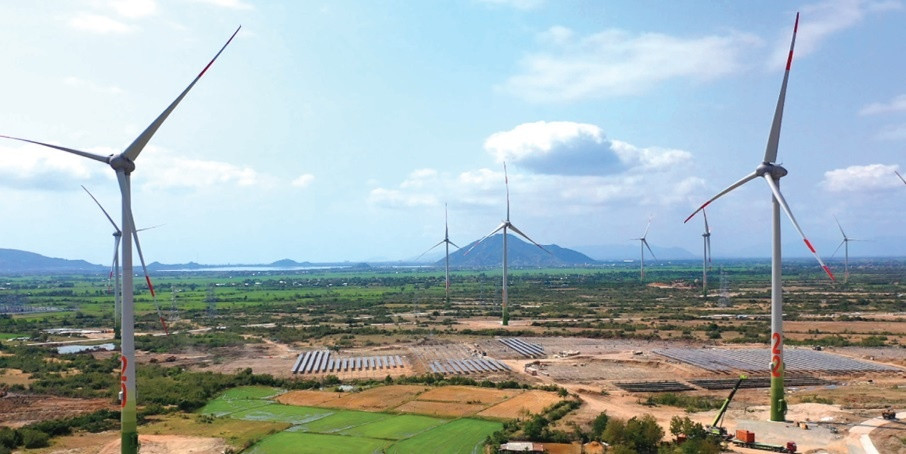 Some foreign giants are continuing to pump in vast amount of money into energy projects in Vietnam, photo Le Toan
Despite global economic uncertainty, Singapore-based SP is confident of Vietnam's continued long-term development. After it acquired a 10MW-peak of solar power assets including the Europlast Phu Yen solar power plant and the Thanh Long solar plant in the south-central province of Phu Yen in March, it said that the move was part of SP Group's green ambitions in Vietnam to develop 1.5GW of utility and rooftop solar projects by 2025.
Since 2021, SP has been developing rooftop solar initiatives across the country through several partnerships and joint ventures, accumulating a total of more than 115MW of rooftop solar assets to date.
SP has also inked an agreement to install up to 20MWp of rooftop solar power at three mega factories for manufacturer TKG Taekwang Vina in Vietnam. The group is waiting for a direct power purchase agreement to be put in place to have the capability and expertise to help customers achieve 100 per cent clean energy consumption.
During a recent visit to Vietnam, CEO of SP Group Stanley Huang said the group pledged to inject $550 million into sustainable energy projects in Vietnam from now until 2025 to double the wind and solar energy capacity in the country in 2030.
Meanwhile, Thailand-based Super Energy plans to pour around $1.21 billion to fund renewable projects in Vietnam between now and 2025, according to the Bangkok Post.
According to Tran Thi Khanh Hien, analysis director at VNDirect Securities, the growth of renewable energy through companies such as these is inevitable, at a time when Vietnam's demand for electricity is anticipated to increase more than 8-fold between now and 2030. By 2025, 78 per cent of the largest manufacturing companies in the world plan to remove their slow-moving suppliers.
"Vietnam is dominating the renewable energy field in Southeast Asia and the equitisation of the electricity sector has been firmly supported by renewable energy," he said.
Last week, the Ministry of Industry and Trade (MoIT) requested that Electricity of Vietnam (EVN) reach agreements on purchase prices with renewable power projects that missed the government's preferential feed-in tariff (FiT) before March 31, but insiders said that the deadline is far too tight, as most of the investors would not be able to complete documents for negotiations with EVN.
The European Chamber of Commerce in Vietnam (EuroCham) noted just over a week ago that the MoIT's recent decision on ceiling tariff levels represent a 20-25 per cent reduction from the previous FiT levels for wind, based on current FX rates, and almost 40 per cent reduction for ground mounted solar initiatives.
"Transition projects that are already built may have no choice but to accept these tariffs or face bankruptcy," noted a EuroCham representative. "Transitional wind projects not already built will not be able to raise finance at these rates, as they are now facing world market turbine pricing more than 30 per cent higher than at the time of previous FiT expiry, as well as higher loan interest and insurance rates."
Meanwhile, the energy transition will continue to be a focus for investors and management teams in terms of energy, utilities, and resources, with significant amounts of capital going towards mergers and acquisitions and other capital project developments, according to PwC's Global M&A Industry Trends Outlook for 2023.
Source: VIR