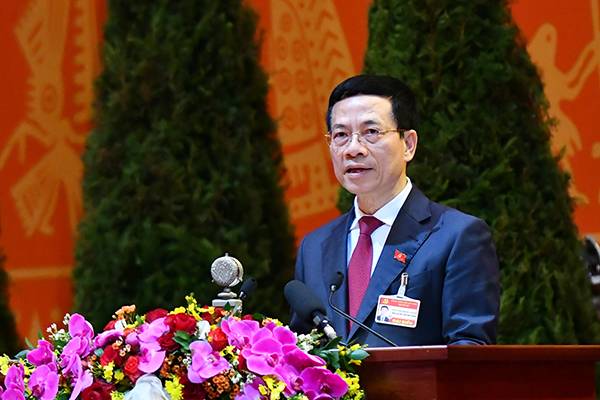 Minister of Information and Communications Nguyen Manh Hung. Photo: Pham Hai
Minister Hung said that 2020 was a pivotal year which opened a new stage of development for the country. This was a milestone year for the national digital transformation program, which has shaped the vision for the development of the information and communication sector in the next 10 years.
He said that the information and communication sector is determined that digital transformation will create a new driving force for Vietnam's economic growth and social development, expressed through a number of main directions.
According to Hung, Vietnam is one of the first countries in the world to issue a program or strategy on national digital transformation. This is a favorable condition for Vietnam to actively and fully exploit the opportunities offered by the technology revolution and make a breakthrough to change its rankings.
"More than 20 years ago, when connecting the Internet for the first time, Vietnam put the first 'footprints' in a completely new space – cyberspace. Since then, Vietnam has come a long way in socio-economic development," Minister Hung said.
"Digital transformation is a comprehensive transformation from real space to digital space, which allows the whole operation to be put into digital space. This movement is taking place rapidly under three pillars: digital government, digital economy and digital society. Like exploring new lands, the expanded cyberspace will open up a new development space for the country," he added.
He pointed out that digital transformation has a far-reaching impact, covering all sectors and socio-economic fields, contributing to increasing labor productivity, changing operating models, and doing business in the direction of innovation, thereby improving the country's competitiveness.
Taking many examples of industries and fields with potential for digital transformation, Minister Hung emphasized that digital transformation is not a revolution of technology but an institutional revolution. Institutions need to be one step ahead and flexibly adjust to accept new things: new technologies, new products, new services, new models. Only with innovation can Vietnam escape the middle income trap.
At the national level, digital transformation is the transformation of digital government, digital economy and national digital society. At the local level, digital transformation is the transition to digital government, digital economy and digital society in that locality.
Digital transformation is also the revolution of the people, he said. Digital transformation is only really successful when each person actively participates in and enjoys the benefits brought about by digital transformation.
Digital transformation has a great mission, which is to universalize and personalize services (such as education services, medical services...) for each citizen to better serve the people.
Digital transformation creates opportunities for people in remote, border, and island areas to access online services in a fair, equitable and humane manner so that "no one is left behind".
"2020 is defined as the starting year for national digital transformation. The society's awareness of digital transformation has changed dramatically.
The year 2021 and the whole period of 2021 - 2025 will be a time of speeding up, with specific implementation for each sector, each field, each locality," Minister Hung said.
Digital transformation: the most sustainable way
The Minister said that in the digital age, when cyberspace has become the fifth strategic space, digital transformation poses an urgent requirement for autonomy in cyberspace. President Ho Chi Minh's teaching continues to be a stepping stone for Vietnam's digital transformation: mastering digital infrastructure and mastering digital platforms, thereby mastering national cyberspace based on "Make in Vietnam" products.
The Minister of Information and Communications stated four breakthrough solutions to accelerate the country's digital transformation.
The first is mastering digital infrastructure. Digital infrastructure plays a decisive role in the development of digital economy and digital society. To meet development needs, telecommunications infrastructure will be transformed into digital infrastructure, including telecommunications infrastructure and cloud computing.
Vietnam aims to master 5G technology, and master cloud infrastructure through Make in Vietnam platforms. Besides serving socio-economic development, mastering digital infrastructure and data of Vietnamese people is a strategic task, which should be given top priority.
Second, mastering digital platforms: Digital platform development is a breakthrough solution to promote digital government, faster digital transformation, reduce costs and increase efficiency.
The information and communication sector aims to develop the digital platform ecosystem to meet the needs of Vietnamese people and from there go out to the world; and to expand national cyberspace through expanding the operational scope of "Make in Vietnam" digital platforms. Vietnam needs more Make in Vietnam digital platforms that are capable of going global to occupy new spaces.
Third, mastering national cyberspace towards the development of a safe, healthy, humane and widespread national cyberspace.
If digital transformation is considered a sharp weapon to expand the national cyberspace, then cybersecurity will be a solid shield protecting the success of digital transformation. Cybersecurity must go hand in hand and become an integral part of digital transformation.
The Minister stated that in 2021 every citizen will have the opportunity to own a digital identity when participating in online services to ensure safety and improve the reliability of services. Identity universalization and electronic authentication will contribute to creating a safe, civilized and widespread national cyberspace.
"The information and communication sector aims to turn Vietnam into a cybersecurity powerhouse with an emphasis on mastering the ecosystem of safe products and network security in Vietnam.
With the ability to master more than 90% of the ecosystem by 2020, Vietnam can fully be proud and believe that the Make in Vietnam ecosystem will ensure Vietnam's prosperity in cyberspace and together with Vietnamese digital platforms reach the global market," the Minister said.
Fourth, mastering Make in Vietnam production technology: With a large force of digital technology enterprises, Vietnam has good conditions to build and own an ecosystem of digital products and services.
Minister Nguyen Manh Hung said the orientation of the information and communication industry in the coming time is to transform from outsourcing to product development. The Make in Vietnam Program will focus on research and manufacture of 5G, IoT devices, smart phones, and platforms for national digital transformation. Instead of processing and assembling, Vietnamese enterprises will focus on making products.
"Digital transformation and Make in Vietnam will be the right and most sustainable way to elevate and bring Make in Vietnam products to foreign markets," he said.
The Minister emphasized that the information and communication sector will have to make more efforts to continue its leading role in the process of national digital transformation, in all aspects of socio-economic development on the basis of gathering and promoting the strength of the whole society.
The information and communication sector will create the foundation for digital transformation, synchronously developing all three pillars of digital government, digital economy, digital society; contribute to making Vietnam a digital, stable and prosperous country, and pioneering trial of new technologies and models by 2030.
Huong Quynh - Tran Thuong - Thu Hang - Pham Hai

By 2025, digital transformation will contribute 25% of HCM City's gross regional domestic product (GRDP), said Chairman of HCM City People's Committee Nguyen Thanh Phong.  

While Covid-19 had a negative impact on socio-economic development globally, Vietnam was able to control the outbreaks and grab an opportunity to step up national digital transformation.