VietNamNet Bridge – Doctor Vo Truong Nhu Ngoc has spent 13 years treating poor people in remote areas. He talks to the reporter about what inspired him to devote his career to helping unfortunate patients nationwide.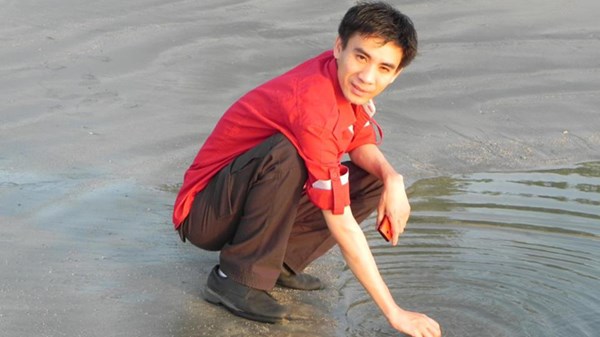 Dr. Vo Truong Nhu Ngoc.
Vo Truong Nhu Ngoc is a lecturer for Ha Noi Medical School, the deputy director of High Tech Dental Centre at Ha Noi Medical School and also the head of the Department of Children's Dentistry at the School of Odonto-Stomatology. He has initiated and participated in over 20 volunteer programmes in disadvantaged areas across Viet Nam, such as the northern provinces of Ha Giang and Lai Chau, to treat poor children, especially young ones, for free in his mobile clinic.
You are busy teaching and working at your clinic, but you still seem to be enthusiastic about treating poor people.
Volunteering has become my interest and passion. Since 2000, I have participated in programmes to treat poor people and other beneficiaries of social welfare. Together with other volunteers, I set out every weekend or once every two weekends to attend to them. However, when I started, I was a resident physician, and I could only travel in Ha Noi and its immediate vicinity to examine patients; treat diseases; and give presents to the beneficiaries of social welfare, poor families, centres of social sponsorship and orphanages. Helping poor people made me feel happy for the first time. I also felt that my job had become more meaningful and that I was more appreciated by my patients.
I graduated in 2004 and worked as a lecturer at my school after that. I still continue to help people in remote areas, even though I cannot travel as much as I used to. I still aim to help disadvantaged people, by any means, directly or indirectly, through programmes or sponsorships.
You have travelled to many provinces and met many poor people. What are your impressions of life in these areas?
I don't remember how many provinces I have been to. I've travelled to Ha Giang, the northernmost part of the country; the central province of Quang Ngai to treat poor patients in Duc Pho District; northward to Dien Bien and Son La, and as far as Bach Long Vy Island in the northern city of Hai Phong. The more I travel, the more I understand my responsibility to the community. The life of the people in areas I have visited is difficult, and they lack medical care. Most of them have simple diseases, but because of the lack of medical care, their diseases progress and get worse. The more people I meet, the more I'm motivated to use my time to travel and my ability to help them. I may not be able to heal them completely, but I've always tried to educate them on how to prevent diseases. Through consultations and the distribution of medicine, the people will gradually understand how to take care of their health.
What do you and your team of volunteers often bring along with your mobile clinic?
Every trip we make receives support from our school. We have to prepare all the necessary equipment, medicines and other paraphernalia for our mobile clinic. I was impressed with my trip to the mountainous areas, including Niem Son and Xin Cai in Meo Vac District in Ha Giang. Some ethnic people had to walk miles to come to our clinic. However, they were happy to see the doctors. Some of them brought bananas, fish, chicken and vegetables as gifts to thank us. Although, the number of doctors in our clinic was limited, we often had to make house calls to examine the people who were unable to travel to our clinic. Otherwise, the board of organisation would ask some members to pick up the sick people.
I was told that you pursued medicine because you used to get sick often and admired the doctors who attended to you when you were a child.
I was often sick as a student, and I was admitted in various hospitals. At the time, the provincial and district doctors took care of me, and I often confided in them. I then gradually started admiring the people who treated me when I was sick. I decided that I would apply to the Ha Noi Medical School, even though I was preparing for the entrance exams to a university of social studies. Fortunately, my wish came true, giving me the opportunity to fulfill my dream of becoming a doctor, just like those whom I had admired.
I was born in 1977 in Phu My District in the southern province of Binh Dinh, a land that has to constantly battle tropical storms and floods and poverty. My parents have six children, and I'm the second child. I'm also the only one of their children to become a doctor. However, I have never been able to return home to treat my relatives but have asked my colleagues in my hometown to do so.
What is your current job?
I'm a lecturer and a stomatologic and odontological doctor. I want to train and raise a new generation of doctors who have both the ability and enthusiasm for social work.
I continue to work on basic studies, which can be applied in various fields as well as in building standards to judge a face, such as determining how nice a face or smile is.
In addition, I want to study modern technology used to diagnose the early stages of common diseases and ailments, including toothache. Thereby, I'll help poor people by treating their diseases on time at a low cost, instead of allowing them to wait until the disease progresses before they get treatment.
The central committee of the youth union has chosen this year as the Year of Young Volunteers. How will you promote volunteer activities and free treatment for poor people?
We'll continue to travel to where the poor people live, especially in isolated areas. They are waiting to be examined and treated. In this volunteer year, my volunteer spirit will rise even higher.
Source: VNS