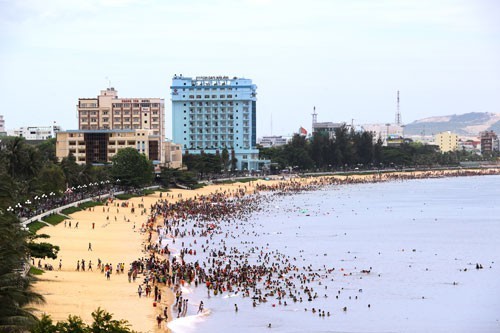 Quy Nhon beach
According to the National Centre for Hydro-meteorological Forecasting, the heat wave will continue to engulf the northern and central region until June 13 with average temperatures of 35 to 40 degrees.
The beaches in Quang Nam are packed with people and An Duong Vuong as well as Xuan Dieu streets are full of vehicles.
Quy Nhon General Hospital and Binh Dinh General Hospital are also crowded with patients.
Bui Ngoc Lan, director of Centre for Disease Control in Binh Dinh said such weather created ideal conditions for several diseases.
Quang Ngai General Hospital has seen a surge in the number of patients being admitted because of heat-related diseases.
Nguyen Tan Phu, head of the paediatric department said the number of children with dengue fever and hand, foot and mouth disease was on the rise.
The temperature in Nghe An and Ha Tinh on June 10 reached 40 degrees in Con Cuong, Tuong Duong, Nghia Dan and Huong Son districts.
The streets were nearly deserted from 12 pm to 3 pm. Dang Thai Son, a local in Quang Tien Ward, died because of thermal shock while burning the rice field.
In Hanoi, Bach Mai Hospital reported dozens of cases of strokes every day. The number of patients with measles, dengue fever and hand, foot and mouth disease also increased.
Tran Dac Phu, head of the Preventive Medicine Department, under the Ministry of Health, said those diseases along with chickenpox, Rubella, viral encephalitis can easily spread from person to person.
Experts warn people against going out from 12 pm to 4 pm which is the hottest time of the day.
When they have to work in a high-temperature environment, they should take breaks every hour, drink more water and vitamin C.
Nguoi Lao Dong/Dtinews