Dortmund chiefs predict bright future for VN football
Although this was only a friendly game with many of the German stars absent from the starting eleven due to the Qatar World Cup, the victory gave the Bundesliga team food for thought about Vietnamese players.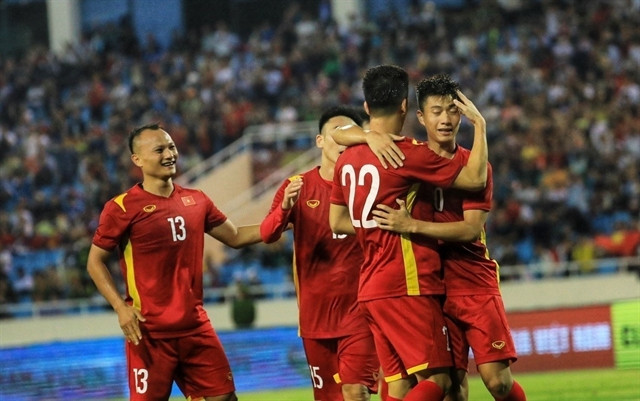 Nguyễn Tiến Linh (22) celebrates after levelling the score on the 36th minute. VNA/VNS Photo Tuấn Anh
Borussia Dortmund were brought crashing down to earth in Hà Nội on Wednesday night, losing to the Vietnamese national team by two goals to one.
And although this was only a friendly game with many of the German stars absent from the starting eleven due to the Qatar World Cup, the victory gave the Bundesliga team food for thought about Vietnamese players.
Dortmund's Managing Director Asia, Suresh Letchmanan, has been tasked with not only building a strong bridge between Germany and Asia, but also potentially finding, and developing, future stars.
He feels there are plenty of decent Vietnamese footballers currently playing professionally, but future talent needs to be natured at a young age.
"You could see the talents that the Vietnamese players have at that very young age," he said before the match in an exclusive interview with Việt Nam News.
"And they are competitive. If you look at the AFC Champions League, there are some quite good, talented Vietnamese players that are playing in that league, in the league as well here."
In regards to Vietnamese players making the step up to play for top teams in Europe, Letchmanan said: "It's probably going to take a while for them to reach that level. But I think that it has to start from a very young age.
"We are here to share experience, to share knowledge and to also learn in terms from what we feel that they need a little bit more support in that sense."
German's Bundesliga has a reputation for discovering and developing talent from Asia.
South Korean striker Son Heung-min took his first footballing steps with the youth academy at Hamburger SV before moving to Bayer Leverkusen.
He has played for Tottenham Hotspur in the English Premier League since 2015 where he is regarded as one of the top strikers in the country.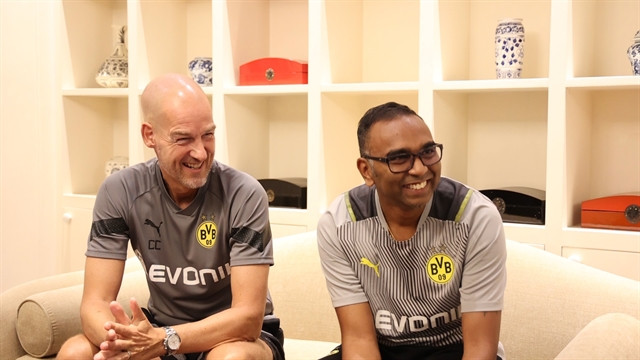 Borussia Dortmund's Managing Director Carsten Cramer (left) and Asia MD Suresh Letchmanan in Việt Nam.
Dortmund's Managing Director in Germany, Carsten Cramer, also watched from the sidelines as the Vietnamese national team recorded their shock victory at the Mỹ Đình Stadium.
He believes it's just a matter of time before a player from Việt Nam is snapped up by a team in Germany.
"We already invited the Under 17 team to Dortmund and we collected and the Vietnamese guys collected a very positive experience and feedback," Cramer told Viet Nam News.
"So I think it's maybe a question of time that Vietnamese players will make a step into the European football market, like the Japanese or South Korean ones already did.
"It's a long run, and as long as you have the patience to make it step by step, it won't happen in two or three years.
"But if you have the patience to, to wait a bit I'm very sure it's just a question of time."
On the pitch on Wednesday night, goals from strikers Nguyễn Tiến Linh and Phạm Tuấn Hải helped Việt Nam come from behind to seal the victory.
The winning goal from Hải came in the dying minutes from the penalty spot.
One noticeable absentee from the Dortmund squad was their prized-midfielder Jude Bellingham, who has been subject to transfer speculation linking him with a big money move to one of the top clubs in Europe, with Liverpool FC among the favourites to secure his services.
Chelsea, Manchester United and Real Madrid have also shown interest in signing the 19-year-old.
Bellingham is currently with England at the Qatar World Cup, and Cramer said despite Liverpool's strong connections with Dortmund, it won't guarantee any special favours when it comes to doing a deal.
Although he did admit to having a soft spot for Liverpool, saying the team managed by former Dortmund manager Jurgen Klopp is his preferred EPL team, Cramer said: "Maybe there is a success existing between Jude Bellingham and (England's) success in the World Cup.
"He (Jude) has a contract. I'm a sales person regarding commercial business, but not regarding the player's business.
"We are happy to have him on board a hundred percent and the longer Jude will play for us, the better it will be.
"We have a high sympathy for Liverpool for sure. We are still in a good relationship to Jurgen and many others at Liverpool, so for me, it's my preferred club in EPL as well. But don't expect that we will make gifts to Liverpool." — VNS