Duy Nhat books spot in Lion Championship MMA final with second-round win
Nguyen Tran Duy Nhat booked himself a place in the finals of Lion Championship with an emphatic second-round win over Phan Huy Hoang in Hanoi on Saturday.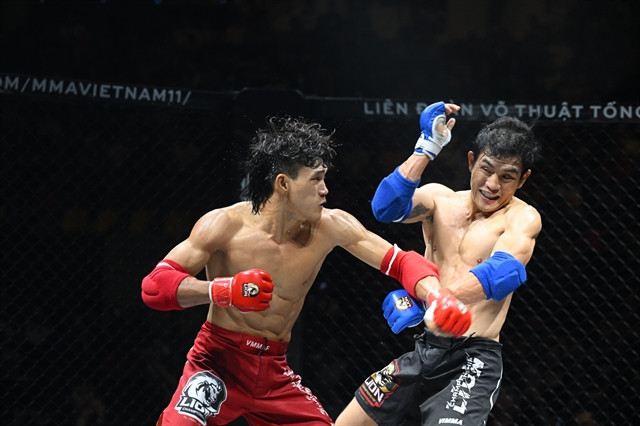 Nguyễn Trần Duy Nhất throws a lead hook, forcing Phan Huy Hoàng to retreat. Hoàng failed to come out for the third round, handing Duy Nhất his third mixed martial arts victory. Photo courtesy of Vietnam Mixed Martial Arts Federation
The Lion Championship returned to the capital for the semis, bringing some mouthwatering match-ups to the sold-out crowd in Quần Ngựa Sports Complex.
Fan-favourite Duy Nhất was greeted with the loudest cheer of the night, and it was no surprise - last week, the 33-year-old revealed he had turned down a lucrative offer to return to ONE Championship this weekend in Kuala Lumpur so he could compete in Hà Nội instead.
Duy Nhất immediately took the centre of the octagon, walking down Hoàng, who was happy to stand and bang with the reigning SEA and World Games Muay Thai champion.
After a minute of trading blows, Hoàng moved to a clinch, though he took a couple of knees for his troubles. Scrambling well and mounting Hoàng on the mat, Duy Nhất quashed any grappling demons that might be lingering from his first-round scare in HCMC last month, when he spent most of the first round fighting off his back and taking punishment.
Though Hoàng managed a reversal, Duy Nhất's triangle attempt bought him enough space to move back into top position before the bell brought the round to a close.
Round two and Duy Nhất retook the centre of the octagon, teeing off with kicks, which Hoàng took to countering from the outside. Again, both fighters were cagey, waiting for an opening, though Duy Nhất was the more clinical.
Hoàng wasn't going to make it easy though. Reading a withering kick correctly, he caught it with his back to the fence and drove Duy Nhất across the octagon.
Hoàng tried and failed to convert it into a single leg, allowing Duy Nhất to wiggle free and land a vicious right knee to the body and right elbow to the head as he escaped.
Hoàng looked stunned, turning his body away from Duy Nhất with his hands on his hips, though the rueful smile suggested it might be Nate Diaz-style gamesmanship rather than genuine fatigue.
However, Hoàng spent the rest of the round with his back to the fence as Duy Nhất walked him down and picked his shots.
Hoàng kept his guard up and countered where he could, but the writing was on the wall, and he decided against coming out for the third round.
Speaking after the fight, Duy Nhất said: "The great reward is that I'm alive and safe. My wife and I, as well as the viewers, saw that my opponent and I both finished the fight to the best of our ability. I believe both myself and my opponent gave our best."
Hoàng's demise takes Duy Nhất's MMA record to 3-0 (two KO/TKO, one submission win). He'll battle it out for Lion Championship MMA 60kg glory at Việt Nam's very own 'Fight Island' of Phú Quốc next month. VNS