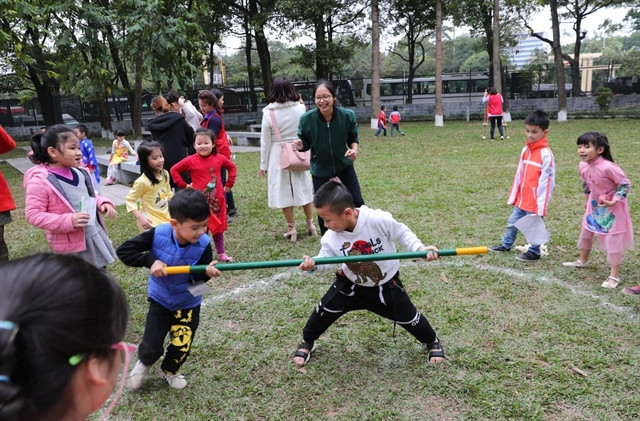 Students take part in a đẩy gậy (stick pushing) competition, a traditional game of the ethnic La Hủ minorities at the Vietnam Museum of Ethnography in Hà Nội. — VNA/VNS Photo
This announcement comes after a number of incidents where students were injured during extracurricular activities organised by schools. These incidents have caused anxiety and doubt about the quality of outdoor activities and the management of schools.
One such incident occurred at Kim Giang Primary School in Hà Nội's Thanh Xuân District where more than 50 students suffered from stomachache and nausea after a school picnic in the afternoon of March 28.
The students were taken to hospital for examination, with samples taken for testing.
The students remain under observation, awaiting conclusions from the authorities.
In another incident, a male student in grade 11 of Lý Thánh Tông High School in Gia Lâm District drowned while on a picnic in the northern Hòa Bình Province.
Another student died and two other students were seriously injured while riding a roller coaster on an extracurricular trip organised by Đông Anh High School in Đông Anh District.
The Ministry of Education and Training has issued guidelines for extracurricular activities to be carried out in the 2020-21 academic year.
At the high school level, Hà Nội's Department of Education and Training has specific regulations on strengthening the management of outdoor activities.
Head of the Primary Education Office under the city's Department of Education and Training Đào Tân Lý said primary schools began outdoor activities from the 2020-2021 academic year according to the ministry's regulations.
Students taking part in extracurricular activities must have their parents' consent.
These activities have given practical knowledge to students, allowing them to visit historical sites and craft villages, learn about national heroes and understand more about the history of the country.
The most important thing is that many students enjoy the activity. After each trip, they understand more about their friends and learn many skills in communication, cooperation and teamwork.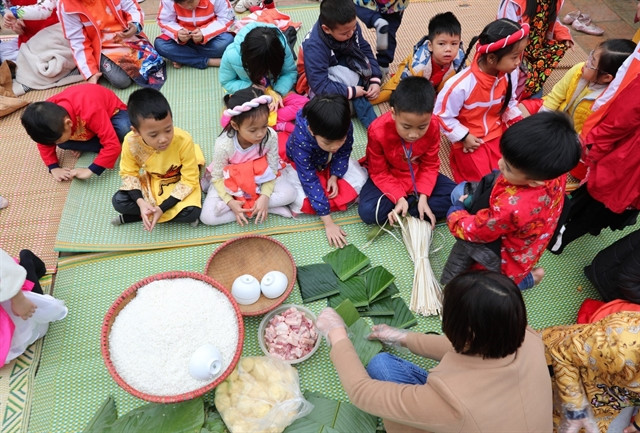 Children learn how to make traditional chưng cake during the Tết holiday in Việt Nam. — VNA/VNS Photo
According to education experts, recent incidents occurred due to students not complying with regulations and loose management of schools.
Ensuring the safety of students in outdoor activities requires close cooperation and coordination between schools and students' families, they said.
Principal of Nghĩa Tân Primary School in Cầu Giấy District Nguyễn Thị Bích Nga said the school organised outdoor activities twice per year.
There are more than 3,600 students in the school. In order to better manage students, the school usually divides children into two different trips – one for students in grades 1, 2, and 3, and the other for students in grades 4 and 5.
The school also pays special attention to choosing a unit with sufficient legal records and capacity to help organise the activity. It always considers carefully the location of the activities and all games students will participate in to ensure their education value and safety.
All remote, inappropriate locations posing risks will not be taken into account, she said.
After each trip, the school collects feedback from parents and teachers to better organise future trips.
Lê Thi Thanh Huyền, parent of a high school student, said extracurricular activities helped students gain experience and skills. However, the schools must ensure the safety of students by building a closed process from the time the children get on the bus to the time they return to school.
All the information related to the activity must be fully disclosed and receive the consent of parents. Parents also need to give advice to their children before each trip, helping them to be aware of their own safety, she said.
"Students are often hyperactive and come up with new games of their own, so parents can't completely rely on the supervision and management of the school," she added.
Director of Hà Nội's Department of Education and Training Trần Thế Cường said the development of an extracurricular plan outside of regular school hours should ensure educational effectiveness, parental consent and absolute safety for students.
Extracurricular activities must be included the school's plan; and before each trip, parents should be provided with information of business registration certificate and travel service business license of the co-organising unit; and signed insurance for visitors and students.
The school principal is fully responsible for the implementation of activities, he said. — VNS