VietNamNet Bridge – Authors who have their work published in school textbooks have never received royalties from the Education Publishing House, which is the only authorized textbook publisher in Vietnam.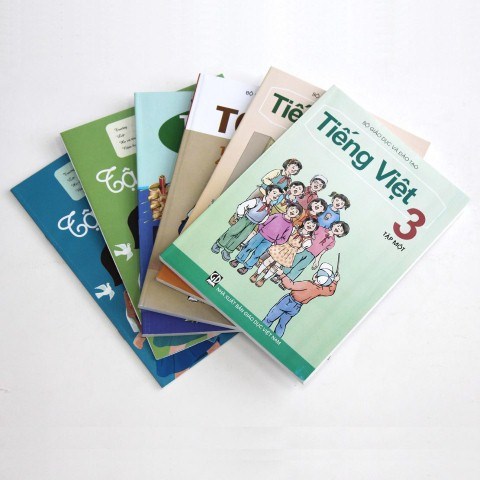 Textbook publishing is a lucrative business with millions of textbooks published every year. The Education Publishing House is the only beneficiary in the field.
Dang Hien, a teacher and a member of the Vietnam Writers' Association, is well known to Vietnamese students as the author of the poem "Me vang nha ngay bao" (mother is away on stormy days). The poem has been published in textbooks since 1981, initially in textbooks for fourth graders and later for third graders.
When asked if he received royalties for the poems published in textbooks, Hien said: "People might think that it is a great honor for me to have poems published in textbooks and that I should not claim royalties".
Hien said that many years ago, when his poem was published for the first time in textbooks, he received a gift from the Education Publishing House, a printed textbook and a VND50 royalty.
And 10 years ago, when the poem once again appeared in newly compiled textbooks, he received another textbook and VND100,000 from the publishing house.
"As such, the royalty I have received over the last 10 years for the poem published in annually printed textbooks is big enough to buy three bowls of pho (noodles served with chicken or beef, a traditional Vietnamese dish)," Hien said.
He said he was pleased that his poem was used in the curriculum but feels said that his merit has not been respected.
"They (the Education Publishing House) print millions of textbooks every year, but they take no slightest notice of the authors," he commented.
Hien is not the only author who has never received royalties for his work. Hoai, a Vietnamese writer well known to many generations of students for his "Vo chong A Phu" (A Phu Couple) and "De men phieu luu ky" short stories,have never received royalties for his works.
Hien commented that he is luckier than many other authors, because he can earn the money for three bowls of pho, while others do not receive any money and don't know that their pieces of work are published in textbooks, newspapers or elsewhere.
Nguyen Du, a poet with famous "Tre Viet Nam" (Vietnamese bamboo) and "Anh Trang" (The moonlight), also commented that the Education Publishing House does not show respect to authors, and that it must do so, as it is an education agency.
"I will not receive royalties if textbooks are delivered to students free of charge," he said. "But in fact, textbooks are commercial products which bring big profits to the Education Publishing House. It is unfair that the publishing house does not pay royalties."
Lao Dong