Cai luong (reformed opera) star Kim Tu Long is focused on attracting audiences back to theatres and having them learn about historical events through the art.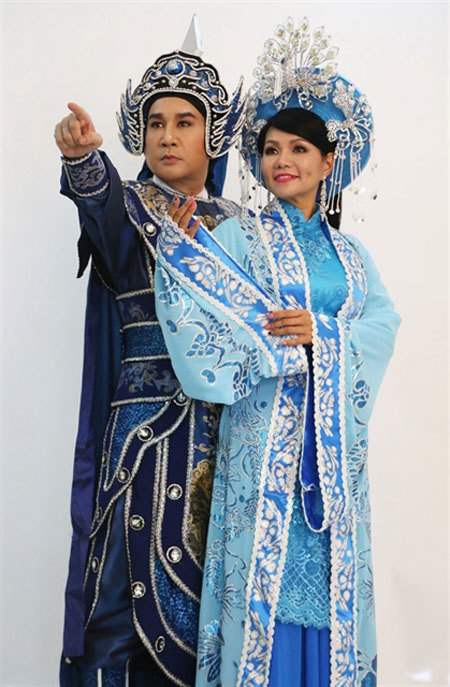 At his biggest live show on Saturday, Kim Tu Long will treat theatre lovers to traditional cai luong featuring historical events and national heroes. VNS Photo Thanh Hiep
On Saturday, Long, 53, will face up to the challenge with his fifth and largest live show in Hanoi's Kim Ma Theatre that has cost several hundred million dong.
The show, Thánh Đường Sân Khấu (Sanctum of Cai Luong), includes 20 extracts from popular plays, such as Gió Lạnh Biên Thùy (Wind Blows Through the Border), Đoạn Tình Buồn (Sad Love) and Câu Thơ Yên Ngựa (Writing Poems on Horseback).
Long's show will be joined by more than 30 other performers, including talented actors Truong Son, Phuong Hang, Phuong Hong Thuy and Vietnamese-American Ngoc Huyen. His wife, actress Trinh Trinh, will also be featured.
"My show's highlights will be extracts featuring the country's history and national heroes," Long said, in an interview with local media. "I will include original traditional tunes and historical stories."
"Young people think history is dry on stage, but I will do it differently," he said.
To this end, he has invited costume designers and composers to help "attract young audiences like a pop concert'.
"We are living in a flat world. To impress audiences, cai luong artists need new performing styles," said Long, who promised to combine traditional and modern styles for the show.
"Hanoi audiences love cai luong and they always ask for a unique art," said Long, adding that he has been practising singing and dancing for several hours a day for the last three months.
Long began his professional career at Tran Huu Trang Cai Luong Theatre, one of the region's leading cai luong troupes, in 1985.
With his strong voice and rapid improvement in performance skills, he soon became a bright star.
In 1992 he won the Tran Huu Trang Golden Prize for Best Actor, theatre's biggest honour conferred by the HCM City Theatre Association.
He has performed for several cai luong troupes in HCM City and southern provinces. He often travels to perform in remote areas.
He devotes all his energies to the stage and to finding ways to attract audiences.
The show, Thánh Đường Sân Khấu, will begin at 8pm on Saturday. More than 1,000 people are expected to attend.
It will be staged at 8pm on Saturday next week in HCM City's Ben Thanh Theatre in District 1. VNS
Thu Anh