Artist Pham Sinh is displaying his latest works at a exhibition at Ha Noi Fine Arts Association.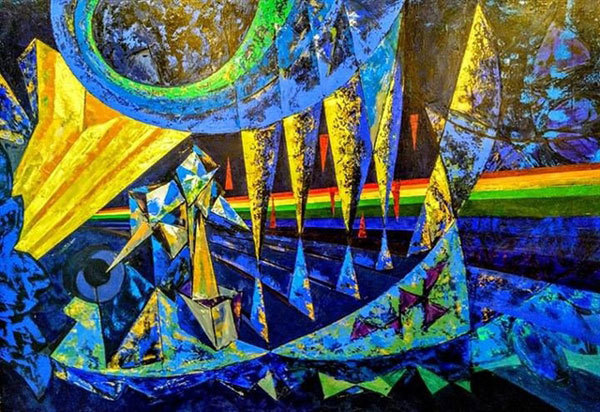 Painting Đêm Mơ Thấy Bảy Sắc Cầu Vồng Trên Cánh Đồng Của Mẹ sized at 108cm by 155cm. Photo Nguyen Binh
The exhibition, entitled Cận Cảnh 1 (Close-Up 1), features 17 acrylic paintings. The pieces are mostly large in an abstract style.
The artist uses basic colours such as orange, red, yellow and blue.
"Currently, painting tends to be pressured by technology, politics and society. It goes astray and forgets its basic principles," said artist Sinh.
"I focus on colours to make a symphony. The paintings do not describe or express detail. I like to draw as far as possible from reality."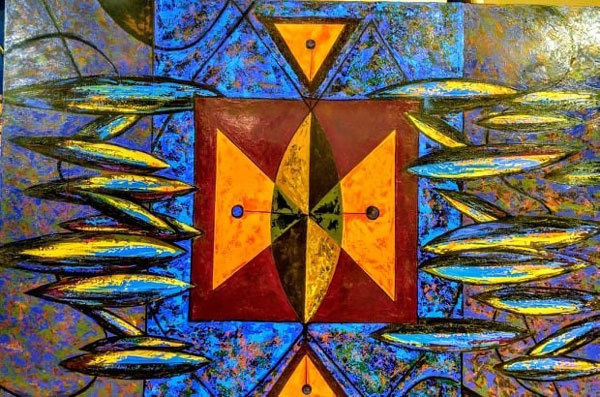 A painting at the exhibition Cận Cảnh 1 (Close Up 1).
European classical music inspires Sinh to paint. He creates the work while listening to pieces by Mozart, Bach, Vivaldi, Chopin and others.
Bản Giao Hưởng Mùa Hè (Summer Symphony), measures 430cm by 155cm. The colours are arranged side by side interacting together to create an impressive aesthetic effect. In this painting, the artist uses yellow to portray summer sunlight in his homeland in the central province of Ha Tinh.
"I created this painting to feature harsh tropical weather but also remind me of my homeland. The clear sunlight is like glass in the early morning and honey in the afternoon."
Shapes, forms, strokes and lines by Sinh are easy to identify. The artist has chosen to paint in an abstract style with geometric shapes.
His paintings are structured from minimal features, which are points and straight lines.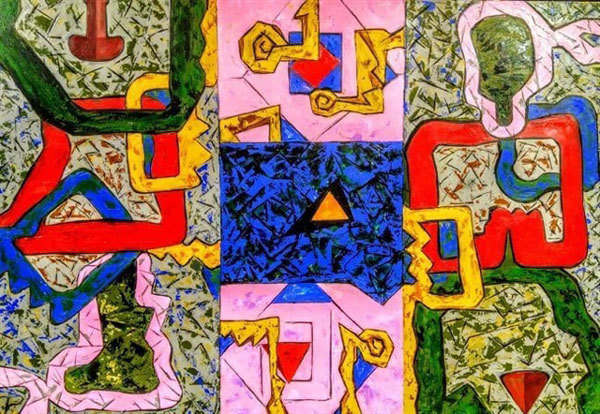 A painting by artist Pham Sinh.
These elements are arranged by the artist to convey the messages.
Another painting has very long title Đêm Mơ Thấy Bảy Sắc Cầu Vồng Trên Cánh Đồng Của Mẹ (Dreaming of Rainbow Colours in Mother's Field). It is a painting with many emotions showing the ups and downs of life.
"I like this painting very much," said artist Nguyen Thi Hanh, a visitor to the exhibition.
"Mother is a broad concept. It can be a specific mother and also homeland and country. When I look at this painting I feel the hardship but also the beauty of romance."
Sinh teaches at the Interior and Exterior Decoration Department at Industry Fine Arts College. He often experiments with many materials such as watercolours, oil on canvas, acrylic, gouache and pottery to find his own style.
Close Up 1 is the third solo exhibition by Sinh. During his 30-year career, he has taken part in many group exhibitions and has attended the National Fine Arts Exhibition.
The exhibition runs until June 22 at 16 Ngo Quyen Street, Hanoi.
VNS