Artists of the CUCA Dance Atelier – an independent platform for teaching, research and creating art, will present a contemporary dance show on Friday at French cultural centre L'Espace.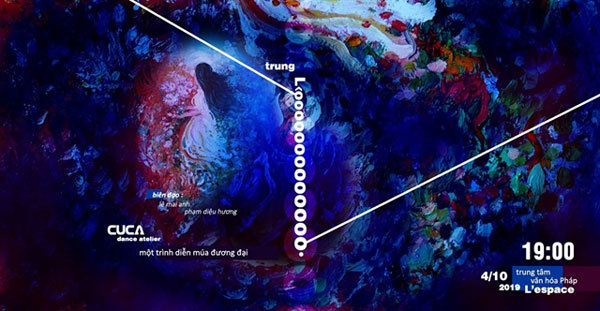 Trung Lộ (Midway) is directed by choreographers Pham Dieu Huong and Le Mai Anh.
Entitled Trung Lộ (Midway), the show is directed by choreographers Pham Dieu Huong and Le Mai Anh.
A former member of the contemporary dance troupes 4ème Sous Sol and Diminutomax in Paris during 2002 and 2008, Huong founded the CUCA Dance Atelier in 2013.
The artist has choreographed several dance shows that were staged at Paris's contemporary dance festival Here and Tomorrow and the European dance festival Choreographic Encounter.
An art and culture expert of the Organisation Internationale de la Francophonie (OIF), Huong was a judge of the Jeux de la Francophonie 2013 – an artistic and sporting event held every four years.
Her counterpart Anh has sharpened her dancing skills at the Hellet Eghayan dance troupe in Lyon, France and the International School of Contemporary Dance in Paris before becoming a lecturer of the school. She also has performed with some famous dance emsembles in France.
Tickets for the show cost VND150,000 and can be booked online at forms.gle/GfGjAWy9GA9WraVs5 or contact CUCA by calling (+84) 395850240. The show will take place from 7pm to 8.30pm. L'Espace is at 24 Trang Tien Street.
VNS