The TV series Về Nhà Đi Con (Come Home, My Dear) has proved a success with viewers. It has won over audiences with its family-based drama and realistic storylines. Director Nguyen Danh Dung talks to Minh Thu about the show.
Vietnamese filmmakers urged to focus on art films
Film industry in need of greater investment
Vietnamese cinematography witnesses remarkable progress in 2017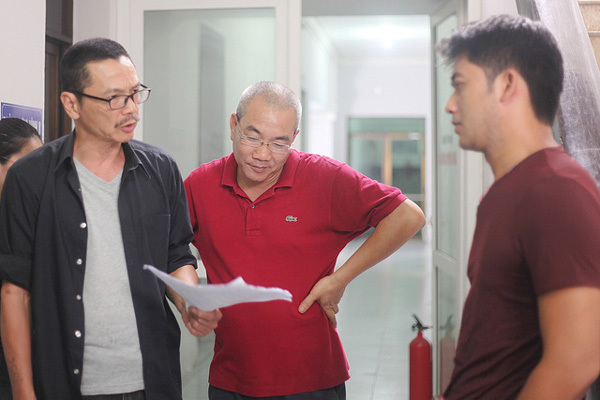 Hard at work: Director Nguyen Danh Dung (centre) working on Người Phán Xử (The Arbitrator). Photo courtesy of the VFC
The TV series Về Nhà Đi Con (Come Home, My Dear) drew huge attention from the public. What made it so successful?
The show touched people's hearts because it reflected simple stories that everyone can experience. It's the story of Son, a widower raising three daughters. Each has her own problem – Hue has a violent husband, Thu married a playboy who doesn't love her back, and the youngest daughter Duong falls in love with the father of her best friend.
The young women face many troubles in life, but their father's always there for them. Son says, "Now I'm old, but I still have love and a house for you to return to. Whenever you feel tired, come home with me."
The series has realistic dialogues and the cast is from various places in the country.
Among your successful works, Người Phán Xử (The Arbitrator) has a foreign script, while Về Nhà Đi Con has a Vietnamese script. What is the role of the script in making a film successful?
TV series are broadcast for free on national television channels and they have a big influence on the society. So, apart from entertainment, they must spread good messages.
Scripts adapted from foreign works should have good content and suit Vietnamese culture, society and customs. When a foreign film is remade, it is changed in accordance with Vietnamese people's tastes.
We don't have many good scripts written by Vietnamese authors. Audiences are much more demanding because they have too many options. A boring story won't keep them interested.
Humorous dialogue is not enough to make a comedy. The audiences require a real story, with situations, events and problems that make them laugh.
How can we improve the quality of Vietnamese films?
From director to screenwriter, cast and film crew, all of us should respect audiences.
Film results from real life, so filmmakers should enrich their real-life experience. You have to find inspiration from life, not stories you collect on the internet or hear from others.
How do you remark on the role of social networks in promoting a film?
In recent years, TV shows come closer to the audience thanks to social networks.
I appreciate the effort of the PR team of the Viet Nam Television Film Centre (VFC) in campaigns promoting films. After producing the film, the staff release many behind-the-scenes clips, teasers previewing upcoming episodes and short interviews with filmmakers and actors.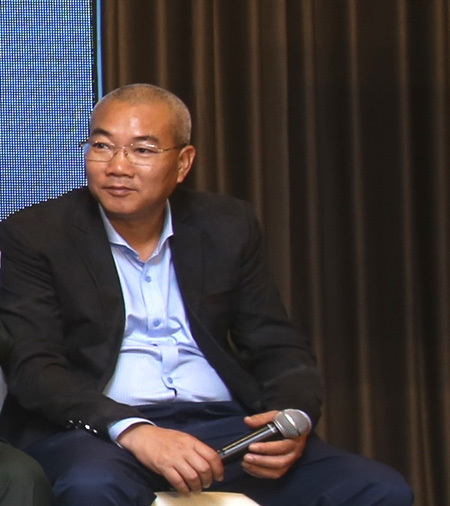 Director Nguyen Danh Dung is well-known for TV blockbusters such as Người Phán Xử (The Arbitrator) and Về Nhà Đi Con (Come Home, My Dear). Photo courtesy of the VFC
Facebook users enjoy, comment and share these clips. When many people pay attention to the films, they will watch them and enjoy them.
In the series Về Nhà Đi Con, when a clip reflecting the unconditional love of the father for his daughters is uploaded, many viewers left comments saying that they felt moved. I remember a comment saying, "The film makes me think of my father who passed away many years ago, I think telling the story is necessary to make young people aware of family values and show gratitude to their parents."
You have received many awards for the TV series The Arbitrator. People predict that Về Nhà Đi Con will be honoured as the best TV series of the year. How do you feel about this?
If it happens, I will be very happy. It's an achievement for all the film crew and cast. I'm glad that our effort is acknowledged. But actually I will not be surprised because since the first episodes, the series received compliments from viewers and critics.
After two months, the official fanpage has nearly 500,000 followers. They are impressive numbers for a TV series in Vietnam.
When The Arbitrator was announced as the winner of the VTV Awards 2017, I was not surprised. The series didn't win at the Golden Kite Awards because of its foreign script. With the Vietnamese script written, I expect that Về Nhà Đi Con will receive more prizes.
The TV series reflects Vietnamese society. Do you hope foreigners living in Vietnam will watch it?
Yes, of course. Actually, most films produced by the VFC have been and will be broadcast on VTV4 with English subtitles after premieres on VTV1 and VTV3.
The films reflect society with its long-standing culture. So, I think they will be attractive to any friends and guest of Vietnam.
VNS