England and Finland have won berths for the final at the Da Nang International Fireworks Festival following a decision reached by the event's judges on Saturday.
Finnish and Italian teams display spectacular fireworks at 2019 Da Nang Festival
Da Nang Int'l Fireworks Festival dazzles spectators
The two teams will be competing for the championship on July 6.
The England team, who are competing at the festival for only the second time, won the hearts of thousands of spectators with an impressively colourful performance on June 22.
They painted the Han River and skies of Da Nang with 7,000 fireworks with spectacular designs and amazing choreography over 20 minutes.
China's Hunan Jingtai Fireworks team used 10,000 fireworks to draw a river of colourful light in the sky during the third night of the festival.
The Chinese team also left an impression on their debut at the annual fireworks festival in the central city.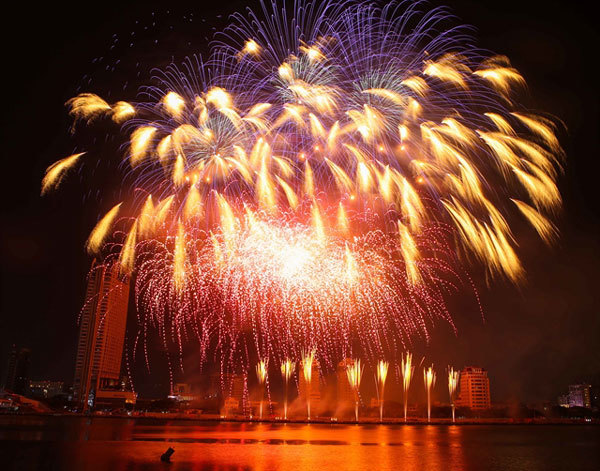 The fireworks festival – the 10th edition since 2008 – has drawn teams from Russia, Brazil, Belgium, Finland, England, China, Italy and Vietnam.
Vietnam and Russia opened the festival on June 1, while Brazil and Belgium took the stage on June 8.
Two-time champions Italy and Finland played the third night on June 15, while England and China completed the qualifying round on June 22.
This year's event, titled 'Stories by the Rivers', saw teams describing the beauty and culture of typical rivers in their countries during the month-long festival.
According to the organisers, the fireworks festival drew more than 1.5 million tourists last year.
VNS