Women soldiers and those who volunteered on the Truong Son Trail during the war are often praised as heroes for facing bombs and fire with nerves of steel. 
 But behind the scenes, they dealt with troubles that all women face.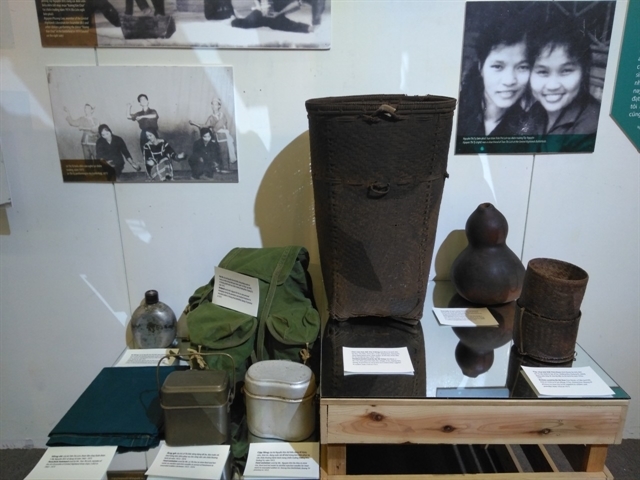 War memorabilia on display at the exhibition.
These brave women faced the fear of ghosts, gynaecological diseases, poor hygiene and sicknesses that made their hair fall out.
Their hardships and sacrifice during wartime in the Trường Sơn mountain range are reflected in a new exhibition, opened yesterday in Hà Nội.
Through photos, documents, stories told by historical witnesses and war memorabilia, the exhibition shows the strong will of the young people who devoted their youth and lives for national liberation.
The exhibition "Pride of Trường Sơn" is being held to commemorate the 60th anniversary of the historical Trường Sơn Trail, which is also known as the Hồ Chí Minh Trail (1959-2019).
The Vietnamese Women's Museum joined hands with the Trường Sơn Female Soldiers Association to organise the event.
"It was not only a route but also a strategic military transport network connecting the north and the south of Việt Nam," said Nguyễn Hải Vân, director of the Vietnamese Women's Museum. "Some of its branches passed through Laos and Cambodia."
From 1959-1975, Vietnamese soldiers together with workers and volunteers from Laos and Cambodia build a route through 21 provinces that included 20,000km of roads, 600km of waterways and 1,400km of petroleum pipelines.
The US army employed brutal measures in its effort to destroy the network. They dropped 5 million tonnes of bombs during 1970 and 1971, twice the total amount of bombs dropped during the Second World War, according to Joseph Amter's book Vietnam Verdict: A Citizen's History.
"We can imagine how much hardship and danger the Vietnamese soldiers and volunteers experienced, and for women, the troubles were much bigger," said Vân.
"Through the exhibition, we expect that young people will understand more about the past and respect the sacrifice of the Trường Sơn soldiers," Vân said. "They were just normal people but the strong will to fight helped them overcome the situation."
Dương Thị Trinh, Captain of the B3 Platoon, Brigade 559, still remembers when General Võ Nguyên Giáp visited them in 1973. He told Trinh and her comrades: "You are not young ordinary women, only iron and steel can exist at such a place like this".
"Then he named our platoon the Iron Women Platoon, and we were so moved," said Trinh.
But they were not made from iron. They had many of the some problems as other women.
"On the battlefield, nothing scared us like menstruation," said Trần Thị Hoa, 70.
"We forgot ourselves in marching and fighting, so we couldn't wash and change our clothes often," she said. "The smell of blood attracted terrestrial leeches to come to bite; it's terrible."
Many young women volunteered to join the army. In 1971, Vũ Thuý Lành was 14. Knowing that she was not eligible to join, Lành went to the recruitment board and cried. She explained that she had no brother, so no one in her family would join the army. She expressed her desire to join.
"If I were not recruited, I would give up studying and run away from home," she said." "Then I was accepted to join a dancing school of military art ensemble, waiting until I reached 17, when I would be eligible to go to Trường Sơn Battlefield."
Alongside the exhibition, the museum is also hosting other activities such as exchanges and summer camps for children to understand more about the exhibits.
The exhibition will run until June 14 at the Vietnamese Women's Museum, 36 Lý Thường Kiệt Street, Hà Nội. — VNS