Fans of HCM City are waiting to see theatre actor and director Thanh Loc perform in a leading role in Ngôi Nhà Bươm Bướm (Butterfly House), a movie about a gay couple based on a French comedy.
Tragi-comedy heads for US stages
HCM City drama clubs survive tough times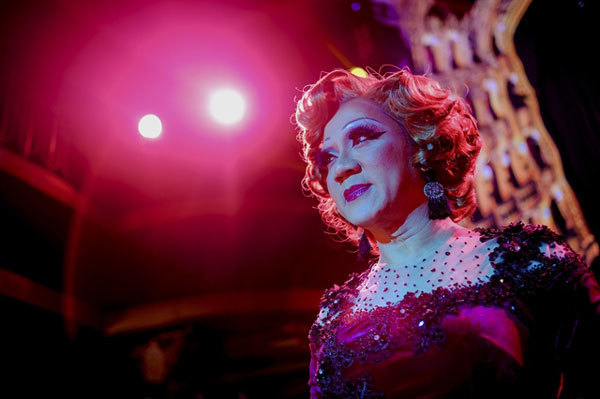 Meritorious Artist Thanh Loc performs in Ngôi Nhà Bươm Bướm (Butterfly House), a movie about a gay couple based on the French comedy La Cage aux Folles by Jean Poiret in 1973. The film will be in cinemas this month. — Photo courtesy of producer
The film is adapted from La Cage aux Folles (The Cage of Madwomen), a play written by Jean Poiret in 1973.
The play was staged later in the US as a musical on Broadway in 1983 and won six Tony Awards, including Best Musical, Best Score and Best Book.
In the Vietnamese version, Ngôi Nhà Bươm Bướm, stories of love, betrayal and family issues are highlighted.
Meritorious Artist Loc plays a father who is gay. His secrets are discovered on his son's wedding day.
The film's director, Huynh Tuan Anh, hired Loc, who has nearly 50 years of experience in the industry, to highlight his film's messages about lesbian, gay, bisexual and transgender (LGBT) rights, which are still considered sensitive issues in Vietnam.
"Loc is talented in both film and theatre. I was very lucky to work with him," said Anh in an interview with local media before filming.
Anh's previous film, Gạo Chợ Nước Sông (Rice Market and River), featured travelling cải lương troupes in the Cuu Long (Mekong) River Delta region in the 1970s.

The VND14 billion (US$615,000) film portrayed cải lương performers living in Bac Lieu and Ca Mau provinces, home of the art, who were once farmers. Their love and devotion for cải lương are depicted in the film.
"I invited young stars, Lien Binh Phat and Hoang Yen Chibi, to play leading roles in Ngôi Nhà Bươm Bướm. However, Loc carries the heaviest role of film," said Anh.
Loc, who spent five months on the production, said: "I was invited to work on the script of Ngôi Nhà Bươm Bướm. Anh, the film's director, and I worked together to complete my role before filming."
"I want my art to address serious issues. I want my audiences, particularly young people, to think about life after watching," he said.
Ngôi Nhà Bươm Bướm will be in cinemas on August 30.
Multi-faceted artist
Loc began his love for theatre from his parents, People's Artist Thanh Ton and Huynh Mai, who both played a key role in the development of the city's traditional theatre.
A freelance actor, Loc has worked with State-owned and private drama troupes, appearing in more than 600 roles.
As a comedian, theatre and film actor, theatre director and producer, Loc is known as a "stage magician" in the region. He has won several top prizes at national theatre festivals.
In 2000, he and his partner, IDECAF, a leading private drama troupe in HCM City, began a theatre programme for children called Ngày Xửa Ngày Xưa (Once Upon A Time).
The programme has offered more than 30 plays and nearly 1,000 shows for several thousand children and teenagers, including disadvantaged kids from open houses and shelters in the city and neighbouring provinces who have received free tickets.
"Through our programme, we provide young audiences with new concepts and techniques in drama. We hope our plays inspire love for the theatre," said Loc.
By Thu Anh