Vietnamese people and foreigners living in Vietnam can enter the K-Pop Contest 2019 launched by Radio Voice of Viet Nam (VOV) on Tuesday in Hanoi.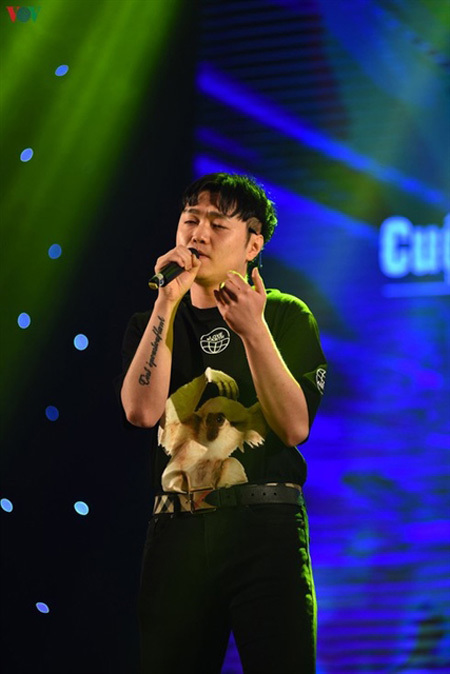 Singer BeGrand from Sublime Entertainment Concert Company performs at the launch of the contest. — Photo courtesy of VOV
Contestants aged 9-25 can register to join the contest from today to November 20. The final round and awards ceremony will take place in January.
Entries can be submitted to the organising board with sound recordings or video clips. Each contestant will be able to send one or two songs performed in Korean.
The song contest will be split into two categories depending on age, including 9 to 16 and 17 to 25.
Winners of the contest will have a chance to perform and release albums in the Republic of Korea (RoK). All the finalists will be trained by professional music producers and artists of Sublime Entertainment Concert Company, co-organiser of the contest.
The event aims to contribute to cross-cultural exchanges between Vietnam and South Korea, according to Tran Nhat Duong, deputy head of music and entertainment Channel VOV3 (radio channel).
The contest is part of activities to commemorate 27 years since the establishment of diplomatic relations between Vietnam and the RoK (1992-2019), and one year since the first Korean language programme broadcast on VOV.
Duong, vice chairman of the contest's organising board, said the event aims to discover new talents and help audiences understand more about the music and culture of both Vietnam and the RoK, in addition to providing a platform for young artists.
"Korean culture and Hallyu (Korean wave) are so popular among Vietnamese young people, so we hope that the contest will attract many candidates to join," Duong said.
Kim Hyo-jae, CEO Sublime Entertainment Concert Company, said the contest is expected to serve as a bridge connecting the people of both countries.
"RoK is renowned for being home to a lot of talented producers and choreographers with plenty of experience, it is therefore hoped they can help to develop talents capable of debuting in both Vietnam and the RoK," said Kim.
The judges include famous singers and composers from both nations. Among them will be Yang Jung-seung, also known as Midas Son, a producer for many well-known Korean singers such as Kim Jong-kook, Kim Bum-soo, MC The Max and Lee Sun-hee.
Choreographer Lee Won-woo will also be a judge in the contest. He played a key role during the Love Yourself concert by the band BTS in 2018 and in the music video for Idols, also by BTS, one of the world's most popular bands.
Contestants will also be allowed to sing Korean songs in their own styles or remix famous songs. Organisers also encourage contestants to compose new pieces in Korean language.
Those who enter the final round will be trained in vocal techniques, and stage skills by Korean experts. Aside from their appearance, they will also perform on VOV's radio and television channels, as well as in domestic and foreign media.
The winner will receive a cash prize of VND50 million (US$2,500) whilst the second-place prize will get VND30 million ($1,500).
VNS