HCM City does not have enough quality performing spaces for dramatic theatre, according to many local artists.
HCM City theatre troupes preserve tuong
HCM City theatres stage new plays for holiday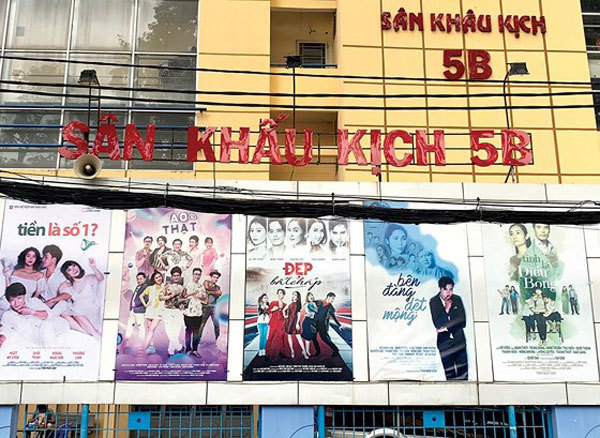 Members of the 5B Theatre in HCM City have been struggling to keep up with their performing schedule. Photo courtesy of sggp.org.vn
People's Artist Hong Van, who has rented a conference hall for 20 years from Phu Nhuan District's Cultural Center to pursue her passion, has the burning desire to contribute to the theatre industry and develop the dramatic arts in the city.
Even though her business has incurred annual losses, she has never felt as exhausted as she does now.
She said that local venues in poor condition have made it difficult for dramatic artists to perform and create meaningful content.
At the Idecaf Drama Theatre, opened in 1997, the stage quality has significantly gone down, even though their business performance is better than most other stages, she said.
Similarly, artists at Trinh Kim Chi and Sai Gon Drama Theatres have been trying to keep up with their performances on old stages.
On a different note, though Hoang Thai Thanh Drama Theatre in District 10 was built recently, it is too spacious to construct a standard and professional drama stage.
Suspended plans
The HCM City Theatre Association in 2015 asked authorities to upgrade a theatre on 5B Vo Van Tan Street in District 3 and build two elevators there.
The project was approved by the city's People's Committee which later assigned the Department of Culture, Sports and Tourism to implement the project with total budget of more than VND6 billion (US$257,000).
Meanwhile, another project with a focus on building a new theatre on 5B Vo Van Tan Street via a Build-Operate-Transfer (BOT) contract, worth hundreds of billion dong, was also approved.
But the city's Department of Culture, Sports and Tourism decided to suspend the first project and focus on building a new theatre on 5B Vo Van Tan Street.
In 2016, site checks at 5B Vo Van Tan Street were carried out. However, between 2017 and 2018, when certain policies on BOT contracts were suspended, the project was delayed once again.
Since both projects were not completed, the original 5B Theatre has been having problems with their shows, with audiences complaining about walking up three floors to reach the main performing area.
Degraded infrastructure, outdated furniture, and poor sound and lighting systems are other drawbacks of the original 5B Theatre.
Solutions
"The drama industry these days is so tough. Even though we only sell a few dozen tickets for some shows, we are still trying to keep up," Meritorious Artist My Uyen said.
"To attract more people, we have discounted our tickets from 10 to 50 per cent depending on the fare for each type of audience," she said, adding that each performance costs VND12 to 15 million to produce.
"We feel discouraged sometimes," she said. "I want to let it go at times but the stage of art is magical and it has the power to hold me back. I hope the audience will continue to support us so that we have more motivation."
Meanwhile, People's Artist Hong Van said she was concerned that all drama theatres have to rent out venues for performances, but most facilities are too outdated to use.
HCM City has no quality stage that meets standards for professional drama performances, experts said. With no performing space, it is difficult to create valuable theatrical work.
Director Hong Dung, standing vice chairman of the HCM City Theatre Association, said that artists had so much hope nearly 10 years ago when the city People's Council put 5B Theatre on the planning map to make it one of the city's significant cultural institutions.
"However, since the policies keep changing, nothing has been done to the theatre on 5B Vo Van Tan Street," he said. "While the fine arts need exhibition centres for display and movies need cinemas, dramatic artists need stages to perform."
"5B Vo Van Tan Street is a prime location that is ideal for many theatrical activities. Hopefully, HCM City will soon have a thorough plan for it," he said.
VNS